Competition gives student teams experience solving community challenges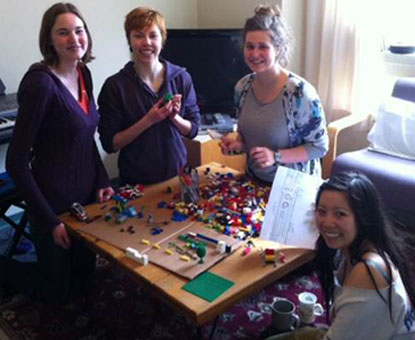 UVic students Jaime Chong, Katie Liebault, Julia Warren and Kate Williams finished in third place in the annual Capital Regional District's Ready, Set, Solve competition. The contest pits undergraduate student teams from UVic, Royal Roads and Camosun College against each other to solve climate-related challenges submitted by local municipalities, not-for-profit organizations and institutions.
The UVic team's project involved creating a plan for a natural outdoor playground at the Oaklands Community Centre. The plan included a Lego model design and a research report.
In this year's competition, 18 student teams from a variety of disciplines worked for two months on project challenges ranging from creating a UVic cycling and pedestrian master plan to producing a promotional video for the Victoria Car Share Co-op, to calculating the carbon impact of employee commuter travel for the Islands Trust. Congratulations to all the students who participated and gained valuable real-world experience while taking action on climate change in our community.
Photos
In this story
Keywords: competition, climate change
People: Jaime Chong, Katie Liebault, Julia Warren, Kate Williams