WWI and Victoria: A city goes to war
- Tara Sharpe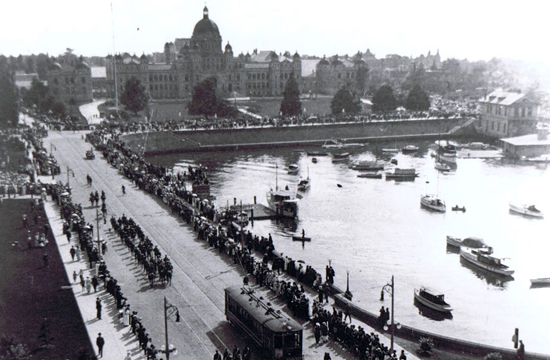 The Empress Hotel opened its doors in 1908, less than 10 years before the start of World War One (1914-1918). Can you imagine the scenes over teacups in the recently built hotel when news of war broke out? Did the Inner Harbour look much different then, when Victoria residents strolling along the water first heard news their country was going to war?
Canada's story as a nation remains irresistibly important, but the experiences during the Great War varied greatly from community to community across our country. A farmer in Trois Rivieres, an office worker in Toronto, and a Victoria merchant with family origins in China all lived through those turbulent four years in different ways.
The remnants of very personal experiences of Victoria residents are now being made available, thanks to a new digital humanities project launched by UVic's Department of History on Nov. 4, 2013, only days before Remembrance Day.
A City Goes to War captures the stories, photographs and letters, as well as other documents plus a database with over 6,000 service records of people from Victoria who served in the Great War.
Project features
Background material on the war in Canada and in Victoria;
An online archive of more than 2,000 photos, newspaper articles, letters and other documents;
A database with over 6,000 service records of people from Victoria who served in the First World War;
A teaching package aimed at high schools to encourage students to explore the history of their community. This includes "FakeBook" pages based on documents and records on the site. Fakebook is an on-line educational tool that allows students to construct a Facebook-like profile of historic persons.
Who is involved
A group of six UVic history students launched the site after months of hard work. Dr. John Lutz, the driving force behind award-winning history websites such as the Great Unsolved Mysteries in Canadian History, provided academic oversight to the team, which was led by doctoral candidate Jim Kempling. He, with three undergraduate researchers and two graduate students, worked collaboratively with local community archives and other groups to develop the archival portion of the site. The Humanities Computing and Media Centre at UVic provided technical support for database and search functions, while the students themselves used WordPress to develop the site.
Funding for this project was provided by Veterans Affairs Canada through the Canada Remembers program. Major archival support came from UVic Archives and Special Collections, the British Columbia Archives of the Royal BC Museum, the Canadian Great War Project, the Saanich, Oak Bay and Esquimalt municipal archives, along with contributions from other community groups and numerous community members who collectively have provided the documents and photos which form the core of this new collection.
See below for more on the team.
Other web additions announced Nov. 4
The historic newspaper, the Colonist, has been digitized for the war decade 1910-1920, adding to the existing archive that runs from the paper's origin in 1858 to 1910. This special addition could only be made possible through the assistance of the Times Colonist. (See original project announcement - December 2008.)
Colonial Despatches Project: This historical treasure trove, originally announced June 2010, is the most authoritative online documentary source available for the colonial period in BC. As the project digitizes these records from the establishment of the Colony of Vancouver Island in 1849 up to the 1871 Confederation with Canada, the records for the gold rush years 1861 and 1862 are newly available.
ViHistory.ca has been updated with new historic building permit data, plus the subject and personal name index to the Colonist paper is now complete from 1858 to 1936 on Victoriasvictoria.ca.
The project team
Dr. John Lutz is director of the Department of History's Graduate Studies program and was awarded the Innis Prize for the best book in the Social Sciences for Mak&u#180;k: A New History of Aboriginal-White Relations.
Jim Kempling is the team's project manager. He is a retired infantry colonel and a current PhD student in history.
Ashley Forseille is the project's digital archivist. She holds a BA (history and sociology) from Thompson Rivers University and an MA (Canadian history) from UVic. She is currently pursuing a career as an archival technician and private researcher (specializing in local history, gender, and religion).
Jeremy Buddenhagen is a responsible for the teaching component of the project, and is a graduate student in history at UVic.
Greg Newton is the project's technical advisor, a senior developer and the principal technical advisor on the team. He is on staff in UVic's Humanities Computing and Media Centre.
The researchers: Hannah Anderson is completing a Honours History BA at UVic, with a minor in philosophy. She has volunteered and worked at many museums on Vancouver Island. Her research interests include BC history, women's history, and American history. Ben Fast is currently entering the fifth year of his Honours History BA at UVic. He is an avid musician, photographer, and traveller and has played for two years with the UVic Cricket Club. Ben worked with the A City Goes to War project as a co-op student and originally found interest through his studies of the relationship between war and religion in the modern era. Kirsten Hurworth is currently an undergraduate student at UVic, pursuing a BA in History and English. She plans to follow this degree with a B Ed.
Photos
In this story
People: John Lutz