MVP makes modernism new (again)
- Tara Sharpe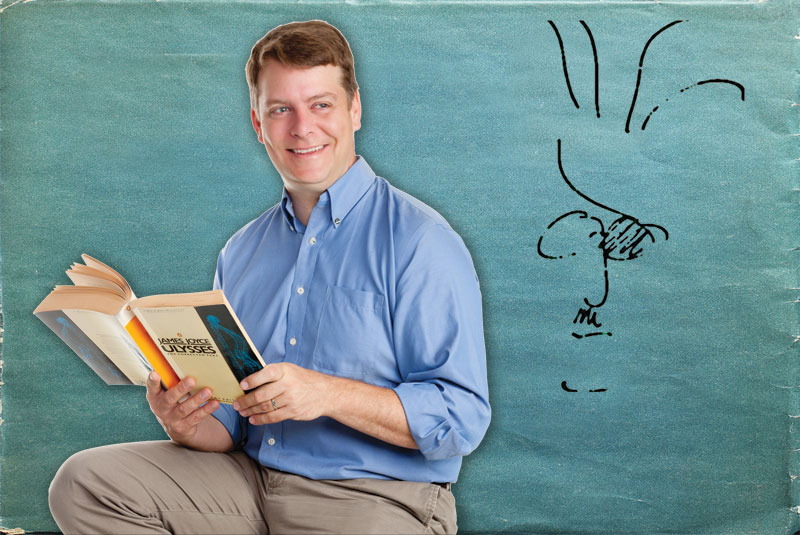 Related update, June 13, 2013: Celebrating a Ulysses discovery for Bloomsday
Dr. Stephen Ross (English), co-director of UVic's recently unveiled Modernist Versions Project (MVP), thinks James Joyce—if he'd lived in this century—would have tweeted incessantly but probably about flatulence or something similarly irreverent, and Virginia Woolf would have been "too much of an elitist" to bother. A fellow MVP co-director, Jentery Sayers (English), kindly disagrees: "I like to imagine Woolf live-tweeting British Labour Party conferences with not a little cynicism."
These are the light-hearted conjectures of Ross and Sayers, with suppositious tweets adding a wistful layer to modernist texts. In fact, the MVP project does add a new layer to the texts—one of digital mark up aimed at highlighting the compositional and editorial practices of writers such as Joyce, Woolf, Dorothy Richardson, Oscar Wilde and Joseph Conrad.
The site (modernistversions.ca) was officially launched June 15 on the eve of Bloomsday at Victoria's downtown Peacock Billiards (formerly the James Joyce Bistro) as part of annual celebrations of Joyce and his most famous novel Ulysses.
Approximately 40 people attended the launch, where the winners of a Bloomsday Photo Contest (www.facebook.com/ModernistVersionsProject) were announced: Aguinaldo Severino from southern Brazil won for the photo taken farthest from Dublin and UVic's own Tara Thomson and David Oswald won for the most "likes" on Facebook. On Bloomsday itself, the MVP site received roughly 200 hits an hour.
The event also kicked off the Year of Ulysses initiative (see hashtag #yearofulysses or http://bit.ly/KQUTr2) which includes an open invitation to read the 1922 Ulysses in twelve months, with a chapter of the first edition released online every three weeks, a series of online chats, recorded lectures by internationally prominent scholars, and an art competition.
"Ulysses always was a book about an 'everyman' on just any day and now just anyone can read it everyday," says Ross. "This new site means the greatest novels of the last century will be made available in original form for free, soon to be accompanied by explanatory notes to help new and seasoned readers alike get to know them like they never could before."
At the heart of the MVP are "versions": every text has multiple versions as it evolves from manuscript to typescript, serialization to first book edition, and across various formats. The MVP digitizes these versions for easy comparison. This comparison allows scholars to take, for instance, a single ambiguous 'knot' in one text, track its changes across versions, producing conceptual maps, bar graphs, word clouds and other visual representations that can help explain why the changes are significant.
"When reading literature, this is the stuff that often gets ignored," adds Sayers. "Versioning—especially through digital methods—helps us become a lot more aware of how we're reading what we're reading." The process also draws attention to textual features and alterations that might be overlooked by individual readers.
Many modernist texts are now emerging from copyright in Canada, well ahead of their emergence in the US, giving the MVP a significant opportunity to lead the charge to make modernism digitally available to a new generation.
The MVP is partially funded by a SSHRC Partnership Development Grant of $200,000 over three years, in addition to over $2 million in support from its official partners: UVic's Electronic and Textual Cultures Lab; EMiC; NINES; Fairleigh Dickinson University; Islandora/DiscoveryGarden; and the Modernist Journals Project.
The MVP is based at UVic, its team consisting of Ross and Sayers, James Gifford (Fairleigh Dickinson University), Dean Irvine and J. Matthew Huculak (Dalhousie University), Susan Schreibman (Trinity College Dublin) and Tanya Clement (University of Texas at Austin).
 
Photos
In this story
Keywords: Modernist Versions Project, English
People: Stephen Ross, Jentery Sayers