Music student wins national composition competition
- John Threlfall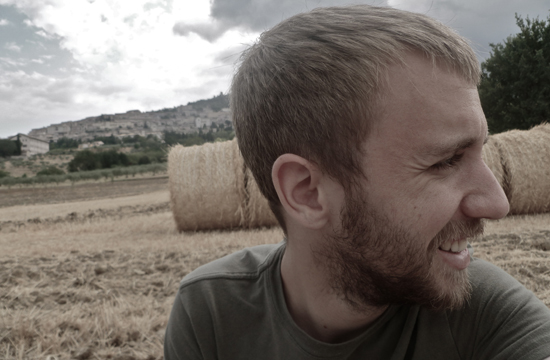 Recent UVic School of Music graduate Robert Hansler has been announced as the co-winner of the Canadian University Music Society's annual Student Composer Competition for his piece "Broken Branch."
Hansler, who received his master's degree in composition in June, studied with the likes of School of Music professors Christopher Butterfield, Dániel P&e#180;ter Bir&o#180; and John Celona, and his works have been performed in Canada, the U.S., and Italy, with upcoming performances in Germany and North America.
"It's certainly an honour and very encouraging to be awarded this prize," says Hansler. "I really can't say enough good things about UVic's program and the faculty. All three faculty members-Bir&o#180;, Celona and Butterfield-are absolutely committed to teaching and raising a new generation of thoughtful and creative composers."
"Robert Hansler is far and away one of the best graduate students I have encountered in 35 years of teaching at this institution," says Celona. "As my composition student, I found him extremely open to ideas regarding content, structure, form, narrative, orchestration, literature and more. He came in with a flute piece he wanted to develop; I helped him expand and create a larger work he pursued with wonderful discipline and ingenuity thus making our weekly lessons rewarding for both teacher and student."
Visiting assistant professor Suzanne Snizek performed Hansler's "Broken Branches" at the recent CUMS conference during Congress 2013. "It's a challenging piece, but one which is really fun to play once you develop some familiarity with it," Snizek says of Hansler's winning composition. "It uses lots of multiphonics-multiple sounds created by using alternative fingerings. The performer reads fingering charts that are placed above the staves, and attempts to produce the pitches intended by the composer. The flute naturally wants to produce one pitch more than another, so the challenge is to balance them and make sure they are all audible."
Hansler feels UVic's School of Music and Victoria in general has a disproportionate amount of relevant and exciting new music. "I was thrilled to come here and discover that the scene for new music is much bigger than I had expected for a city this size," he says, "and I think that the faculty at UVic are a major reason for that."
The young composer is off to Stuttgart, Germany, this summer to attend the Sommerakademie Schloss Solitude and work with Ensemble Surplus on a new piece. Also in his immediate future is the premiere of a solo snare drum piece performed by fellow School of Music graduate Alexei Paish in New York in November, followed by the Montreal premiere of a piece he's currently working on for Ensemble Paramirabo in January 2014.
"After that, there are three pianists who have asked me to write for them, so for the first time since 2009, I'll be writing solo pieces for my instrument," he chuckles. "While I work on these projects I will be studying composition privately and working as a church musician and private music teacher, and afterwards I hope to pursue a PhD."
Hansler shares this year's CUMS prize with Brazilian composer, University of Alberta master's student and friend, Andr&e#180; Mestre. The Student Composer Competition is open to any university student who is a Canadian citizen or landed immigrant or who is studying at a Canadian institution, does not yet hold a doctorate and does not hold a full-time teaching position. CUMS gratefully acknowledges the financial support of the University of Victoria School of Music in the awarding of this prize.
Photos
In this story
Keywords: music, competition
People: Robert Hansler