For the love of science
- Vivian Moreau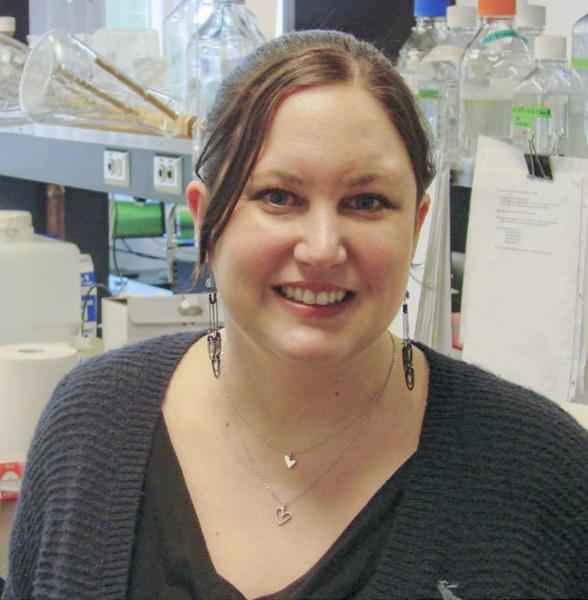 UVic's first neuroscience program graduate moved to Victoria to study – and she intends to stay.
Anna Patten found UVic's graduate program in neuroscience, which will confer its first degree to her this June, through love. Not just love of science – but for the young Canadian man she met while working in a British pub.
A New Zealander, Patten, 28, has a BSc in neuropharmacology from the University of Otago. When Mark Macdonald moved back to Canada in 2009 and asked Patten to join him, she contacted her former advisor at Otago about what research opportunities were available in Victoria. He recommended Dr. Brian Christie, with whom Patten then got in touch.
"He said 'Come on over, spend some time on the Island,'" Patten recalls. That was four-and-a-half years ago.
With Christie as supervisor, Patten has finished her PhD in neuroscience, researching the effects of Omega 3s on the brain. Omega 3 fatty acids, found in salmon, halibut and tuna as well as green leafy vegetables and nuts, help neurons communicate more effectively, her research has found.
Christie says Patten has been an asset in the lab since the day she arrived. "Right away she was a self-starter and always exceeded my expectations on any of the tasks she was assigned," he says. "In addition to her intelligence and fantastic work ethic, she also brought her unique personality to the lab and quickly became friends with almost everyone she met. Her friendly goodhearted nature is really something great to have in a work environment -- it really helps to build team spirit."
Patten's days at the Medical Sciences Building were long, sometimes beginning at 8 a.m. and going until 7 at night or later. But worth it when results are tangible, she says.
Her research has found Omega 3s can reverse effects of Fetal Alcohol Spectrum Disorder (FASD) in rats. An article she wrote discussing the results was recently published in the journal Nutritional Biochemistry, and another article has been accepted by Neuroscience Letters. As one of the top five per cent of doctoral students in the country, she was invited to attend a national student health research forum held last June in Winnipeg.
Patten is also the UVic coordinator for the national Let's Talk Science program which promotes science education in children.
Patten loves Victoria – "so similar to New Zealand" – and plans to settle here after graduation with Macdonald, a UVic English major. "He wants to be a fiction writer. I write very scientifically. We're different in that respect."
Photos
In this story
Keywords: neuroscience, research
People: Anna Patten, Brian Christie