Student entrepreneurs give it their best shot
Peter B. Gustavson School of Business
- Darcie Scollard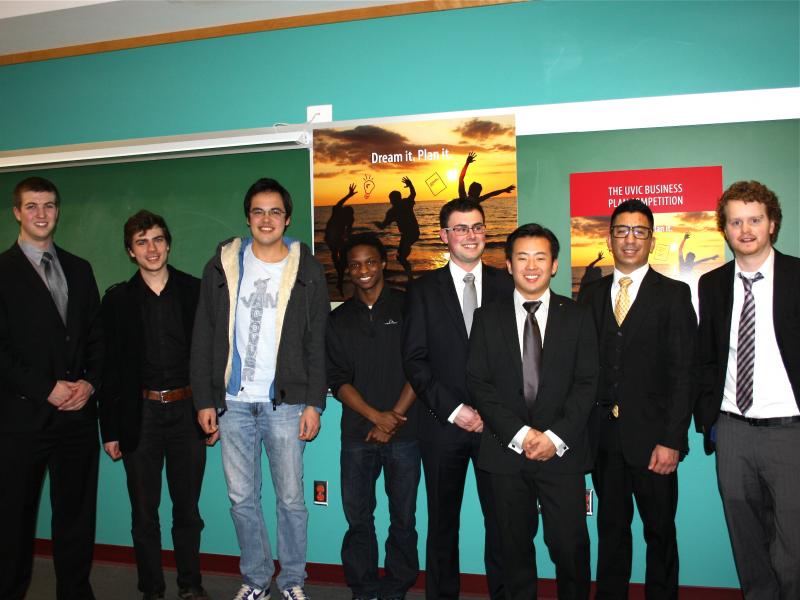 UVic undergraduate students are ripe with innovative ideas, as UVic's fifth annual Pitch-it event proved on Jan. 24. This event welcomes students from all faculties to make a 90-second pitch for an existing or possible business venture.
Sporting the motto, "Dream it. Pitch it," the event welcomed 23 teams this year, and according to organizer and instructor for the Faculty of Business in Entrepreneurship Mia Maki, "It was definitely our best year. We had two more teams pitching two years ago, but the quality of the pitches this year was the best in the five years that we have run the event."
The teams had less than two minutes to wow the panel of judges, composed of Peter B. Gustavson Business School faculty members Brock Smith, Ana Maria Peredo and executive-in-residence Rob Milne. After each team pitched, they were led away to receive input from a panel of Innovation Centre for Entrepreneurs (ICE) authorities, serving as feedback coaches.
The winners of the $300 prizes are Sean Wiggins (business), Ben Duthie (business and continuing studies), Marcin Koni (psychology and sociology), Aaron Lamour, Darrin Mah, and Yang You (business), and Kenyon Nisbett and Nathaniel Jordan (economics).
Wiggins pitched a music-sharing online community named Music Market, which invites community members to share in the success of their favorite local artists by purchasing content online.
Duthie pitched Eco-collaborative, which unites passionate individuals by running information-rich eco-tours across Vancouver Island.
 Koni pitched Mika, a Schedzo software app designed specifically for students to align their schedule with those of their friends and colleagues.
Lamour, Mah, and Yang pitched a Hotel U Pass, an app that allows for convenient hotel check-ins. 
Nisbett and Jordan pitched Scholastic Housing Connection, a social network for off-campus housing that connects students and landlords.
According to judge Brock Smith, these contestants were selected based on the feasibility of their ideas, the passion of team members, the focus on a specific important problem, and the contestants' ability to carry out the venture.
Also in attendance was previous Pitch-it winner Jill Doucette, who went on to compete and win UVic's Plan-it competition in 2009. She also competed and won the national Nicol Entrepreneurial Award in Ottawa and successfully launched her business idea Synergy Enterprises.
Synergy has "greened" 35 businesses in Victoria this year through delivering measurable sustainability programs and continues to flourish. Doucette attributes the Pitch-it and Plan-it competitions as the "launchpad" for her business.
Submissions for UVic's business plan competition, Plan-it, are due Feb. 28 and presentations take place on March 1. The prizes range from $1,000 to $5,000. For more information on Plan-it and how to register visit http://www.uvic.ca/gustavson/gill/entrepreneurship/competitions/index.php. 
UVic students across campus are encouraged to attend Pitch-it next year. According to Maki, "We believe that entrepreneurship exists all across campus and we want students to know that we can support them."

 
Photos
In this story
Keywords: Pitch It, business, competition
People: Mia Maki, Sean Wiggins, Ben Duthie, Marcin Koni, Aaron Lamour, Darrin Mah, Yang You, Kenyon Nisbett, Nathaniel Jordan