Congress 2013 brings 7,000+ delegates and community celebrations to campus
- Melanie Groves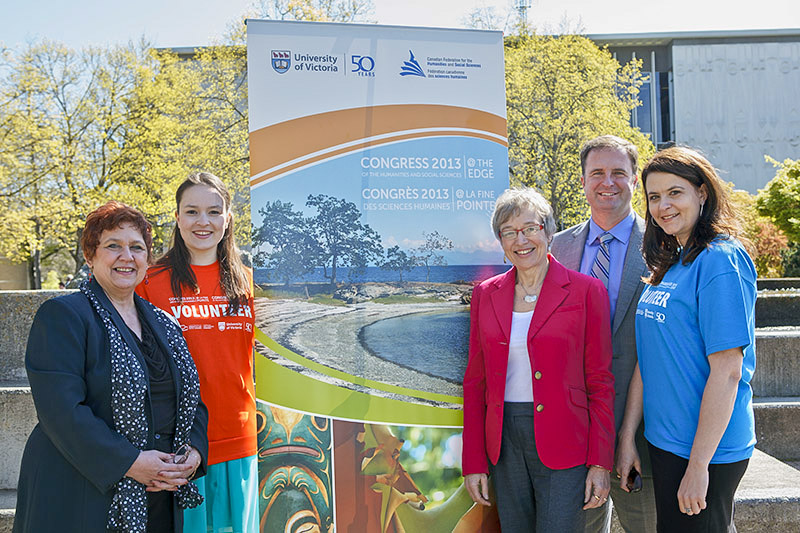 The campus may feel a bit quiet without the hubbub of regular term activities, but that will soon change when the biggest conference in the university's history–the 2013 Congress of the Humanities and Social Sciences–comes to campus from June 1 to 8.
"We are looking forward to welcoming more than 7,000 delegates from 70 academic associations to campus," says Catherine Mateer, Congress 2013 chair and associate vice-president, academic planning. "Congress is also the biggest event of our 50th anniversary yearand we're looking forward to welcoming the local community to campus to enjoy the incredible variety of lectures, exhibits and performances that will be free and open to everyone."
Organized by the Federation for the Humanities and Social Sciences (FHSS), Congress is Canada's largest multidisciplinary gathering of scholars, bringing together internationally recognized researchers, policy makers and practitioners to share findings, refine ideas and build multidisciplinary partnerships.
"An education in the humanities and social sciences prepares students to enter the work force with a valuable set of skills, including effective communication, critical analysis, adaptability and creativity," says Mateer.
The theme of this year's Congress, @ the edge, "reflects UVic's location on the west coast of Canada but is also about testing the boundaries of disciplines, promoting innovative thinking and committing to engaged scholarship and knowledge mobilization," says Andrew Rippin, Congress academic convenor and history professor. "'At the edge' focuses on the need for inclusion and ensuring that voices on the margins are heard."
The UVic Congress team has been working behind the scenes for more than a year and is now revving into high gear in preparation for the opening reception on June 1. "We will be rolling out the red carpet - whether it's having 5,000 cups of coffee ready in 225 rooms every day at 8 a.m., readying our residence accommodations for delegates or making sure all 200 video projectors have spare bulbs," says Congress Vice-Chair and Associate Vice-President, Student Affairs Jim Dunsdon.
More than 300 volunteers will be helping out during Congress to ensure the event runs smoothly. "Our team of staff and volunteers has just been amazing," says Congress 2013 manager Suzanne Dane. "We have gone to extra effort this year to open up the conference and the campus to the public, and offer performances and celebrations that will appeal to the everyone, including families – this is a great opportunity to showcase the beauty of UVic and Greater Victoria, and there truly will be something for everyone."
This is the 82nd annual Congress of the Humanities and Social Sciences. UVic previously hosted the conference in 1990, when it was called The Learneds. Visit uviccongress2013.ca for more information. Follow Congress on Twitter at #congress2013.
FREE PUBLIC EVENTS OPEN TO EVERYONE

June 1-5: Big Thinking Speaker Series
Internationally renowned scholars and public figures present research, ideas and solutions to the critical questions and issues of our time. 2013 speakers: Louise Arbour, Dany Laferrière, Margaret McCain, Ben Levin, Joy Kogawa, Mary Ellen Turpel-Lafond, Doug Saunders, Daniel Weinstock, Judith Heumann and George Dyson. Details: uviccongress2013.ca/program/speakers. Visit http://libguides.uvic.ca/bigthink for UVic Libraries' guide to the Big Thinkers, including recent publications and videos.
June 2, 11 a.m.-6 p.m.: WorldFEST@ the Edge
Multicultural performances including African drummers, Asian dancers, ethnic food vendors and a children's activity area.
June 3, 4:30 p.m.: First Peoples Circle Celebration and Dedication Ceremony
Join Elders and dignitaries for a formal and traditional Coast Salish ceremony that will include the dedication of a new piece for First Peoples House from renowned BC artist/carver Charles Elliott. Elliott previously carved a totem pole for the 1990 Learneds conference at UVic. Plus drummers and dancers, artisan fair and musical performances.
June 5, 7:30 p.m.: Concert
Canadian icon, singer-songwriter, musician and activist Buffy Sainte-Marie performs on the outdoor concert stage.
June 1-8: Other ongoing events
Canada's largest academic book fair, exhibits and displays, daily outdoor performances by award-winning musicians including Mae Moore, Daniel Lapp, Maureen Washington, Sandy Scofield, and Louise Rose and the Good News Choir. More info: uviccongress2013.ca/program/special-events/.
Photos
In this story
Keywords: congress
People: Catherine Mateer, Andrew Rippin, Jim Dunsdon, Suzanne Dane