Congress 2013 is a mammoth success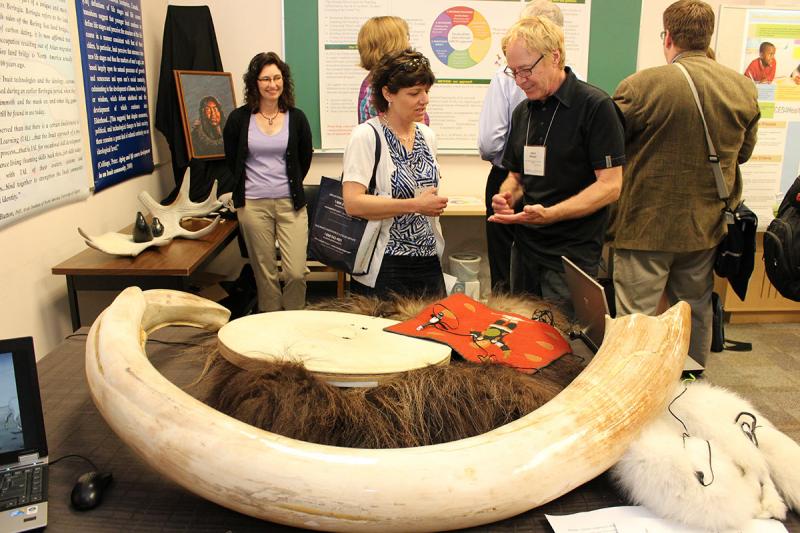 From scholarly debate to daily entertainment, fabulous food and even a 40,000-year-old wooly-mammoth tusk—Congress 2013 of the Humanities and Social Sciences was a resounding success with something for everyone.
The months and months of preparation and smooth implementation of detailed plans, plus timely response to queries as they arose, resulted in a Congress that will not be soon forgotten by the approximately 7,800 delegates, hundreds of volunteers and thousands of community members who attended events from June 1 to 8.
"Congress has been an enormous success. Our staff and volunteers have been outstanding in making this a truly welcoming and memorable event," says Catherine Mateer, Congress 2013 chair and associate vice-president academic planning. "Delegates from across the country and around the world have enjoyed dynamic presentations, stimulating scholarly exchanges and cultural and social events that have exceeded expectations. They will have a very positive, lasting impression of Congress 2013 at UVic."
During the week, 70 academic associations offered more than 1,800 presentations and sessions, including one with a 40,000-old mammoth tusk from a Dawson City gold field. Offering technical support was the entire University Systems team, while Residence Services smoothly dealt with 2,600 delegates staying on campus and University Food Services had staff working 4 a.m. to midnight.
"Thank you to our executive for having the vision to invite the Congress to campus, to Congress manager Suzanne Dane and her team for working with the Federation for the Humanities and Social Sciences to plan and execute a perfect event, to all our faculty, staff and students who executed the plan and hosted associations and delegates, and of course to all the volunteers," says Dean of Humanities John Archibald.
"We have heard nothing but accolades and kudos from many, many delegates and community members attending Congress 2013," says Dean of Social Sciences Peter Keller.
"We owe a huge vote of thanks to the University of Victoria community for this exceptional festival of arts and ideas," says Antonia Maioni, president of the Federation for the Humanities and Social Sciences, organizers of Congress. "Our success is their success."
The hospitality and the positive feel of the eight-day event was mentioned repeatedly by delegates.
"There is such a festive and collegial atmosphere," says Sheila Hannon, who teaches journalism at Western University. "The main stage with the bands and entertainment drew people together, and people really mixed. It was easy to meet people from other places that had nothing to do with your discipline."
The volunteers, in their bright T-shirts at almost every turn on campus, made getting from place to place a treat, Hannon says. She also liked that so many local people were part of Congress, both volunteering and attending events. "It seemed like a community event."
Daily lunchtime and evening performances on an outdoor stage by award-winning local musicians—including Maureen Washington and Daniel Lapp—drew people to the Quad, dubbed Celebration Square, at the centre of campus where they could also find local artisans.
The nearby ScholarSIP tent did brisk business, with the warm sunny weather making it a favourite place for a cool beverage. More supplies had to be ordered mid-week with a total of 45 kegs of beer consumed.
University Food Services staff worked extended hours with Degrees Catering delivering 760 individual food orders to association meetings and evening receptions including 287 cheese platters, 7,000 pieces of fruit and 9,000 petit fours. In the kitchens, specialty coffee makers produced 900 cups of coffee every eight minutes.
Eryn Court, a delegate from the Canadian Peace Research Association, says she loved her stay at UVic residences, especially the breakfasts.
Court, who admits to being "in my 80s," has attended several Congresses to expand her horizons and contacts.
"This is a gathering of the human and social sciences. The big question for humanity is whether we will survive, so we have to figure out a way to achieve our common goal," Court says. "I intend to live to be well over 100. We have to lay a firm foundation for a world in one piece—and I spell that p-i-e-c-e and p-e-a-c-e."
For young academics, Congress is an opportunity to test-drive communicating their research in front of an audience.
Ahmed Tareq Rashid, a PhD student from the University of Ottawa, was confident as he walked to his presentation on the role of the private sector in international development.
Such presentations are a part of academic life, and this is a good opportunity to gain experience, says Rashid, who brought his wife and 11-month-old daughter so they could all visit Victoria.
Mary Jane Kwok Choon took a quick time-out after her presentation to pop into the UVic bookstore for souvenirs. The University of Quebec PhD candidate and lecturer presented a paper on privacy within the context of social media, from the perspective of Quebec students.
"It went very well and we had such an amazing discussion with the group," the 30-year-old says.
She too says Congress is a prime opportunity for young academics to network and hone their presentation skills.
Others from the UVic campus benefited from Congress in other ways. Troy Hasanen, from the Department of Occupational Health, Safety and Environment, is one of the 500 volunteers who helped delegates navigate campus.
Schooled as a chemist, Hasanen says he did not know much about social sciences. "I thought, 'What better way to find out about that than to actually talk to the people who do it?' "
Congress attendees included His Excellency David Johnston, Governor General of Canada, who participated in the panel session Community-campus Collaborations in Aboriginal Communities and a roundtable discussion on Scaling up Work-Integrated Learning.
Three UVic signature events offered an unprecedented line-up of musical and social programming for Congress delegates, UVic staff and faculty and community members. WorldFEST, the Indigenous Circle Celebration and Dedication Ceremony, and a concert by legendary musician Buffy Sainte- brought more than 4,000 people to campus to soak up the atmosphere.
Congress 2014 will be hosted by Brock University in Saint Catherines, Ontario.
Photos
In this story
Keywords: congress
People: Catherine Mateer, Suzanne Dane, Peter Keller, Antonia Maioni, Ahmed Tareq Rashid