Congratulations, Spring 2013 grads!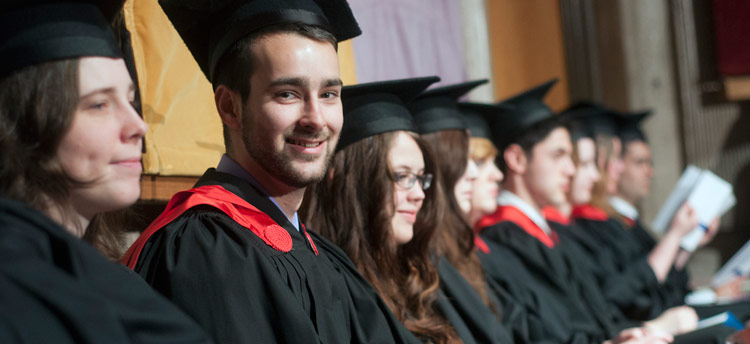 Thousands of UVic students and their families and friends will gather on campus this month to celebrate the achievement of an academic milestone. During spring convocation, which stretches across nine ceremonies conducted from June 10–14, the University of Victoria will award 3,434 degrees, diplomas and certificates. The ceremonies will also be webcast live (uvic.ca/convocation). Congratulations and best wishes to all convocating students.
As Friday's ceremony be Dr. David Turpin's final convocation as President of UVic, it will include a special tribute in recognition of his years of leadership at the university.
On the following pages, we present profiles of a few of the many outstanding members of this year's graduating class:
Honorary degree recipients
Convocation medals and awards
List of students recognized at ceremonies
Kinesiology grad is a study in adrenaline, and the bumps and bruises
Drew Commandeur, kinesiology
Silver medallist investigates role of law in religiously diverse society
Geoffrey Conrad, law
Community engagement a core part of Indigenous law grad's education
Kaitlyn Crabtree, law
International business student seizes opportunity
George Fu, business
Graduating on a high note
Andy Huerlimann, engineering
Writing grad's narrative is a progression of literary awards
Cody Klippenstein, writing

Political science grad reflects on family, Croatia and UVic
Christina Ljubic, political science
Undergraduate research on the way to med school
Daniel Moller, biochemistry and microbiology
For the love of science
Anna Patten, neuroscience
A nursing education that spans the province
Kara Sundberg, nursing
Newcomer to Victoria embraces Victorian literature
Adam Taylor, English
From Metchosin to UVic, and on to Oxford
Nathan West, biology
Photos
In this story
Keywords: grad, convocation
People: David Turpin, Drew Commandeur, Geoffrey Conrad, Kaitlyn Crabtree, George Fu, Andy Huerlimann, Cody Klippenstein, Christina Ljubic, Daniel Moller, Anna Patten, Kara Sundberg, Adam Taylor, Nathan West