UVic delegation builds connections in India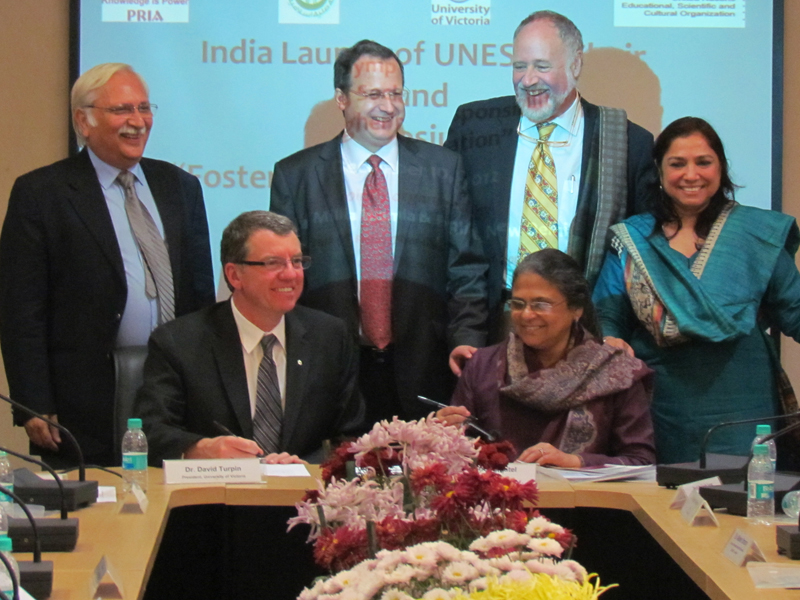 In early December a presidential delegation from UVic visited India to formalize relations with leading Indian universities, explore potential partnerships with other post-secondary institutions and celebrate the launching of the UNESCO Chair in Community-Based Research and Social Responsibility in Higher Education.
"There is great interest and potential for further expansion of faculty and student exchanges, experiential learning opportunities, research collaborations and community engagement initiatives between UVic and institutions in India," says Vice-President Academic and Provost Dr. Reeta Tremblay.
At the University of Calcutta, Vice-Chancellor Suranjan Das and UVic President David Turpin signed a memorandum of understanding between the two universities that will help pave the way for faculty and student exchanges and research collaboration. The two institutions share a particular interest in nanotechnology. The University of Calcutta has recently opened a new campus that houses its Centre for Research in Nano Science and Nano Technology, and a tour of the labs was given to UVic's Dean of Science Robert Lipson, Associate Vice-President International Andrew Marton, and Associate Director of the Centre for Asia-Pacific Initiatives (CAPI) Helen Lansdowne.
The UVic delegation also laid the groundwork for the fostering of new relationships, such as working with Jadvapur University to bring faculty and graduate students to UVic in 2013 for a humanities-focused conference on Imagined Nationalisms: Canada and India. This conference will be organized by UVic Associate Dean of Humanities Sikata Banerjee and CAPI and will be the first phase of what is hoped to be a longstanding partnership between UVic and Jadvapur University.
As well, Marton and Lansdowne visited with the deans of international relations, Drs. Anand Prakash and K. Sreenivas, of the University of Delhi to discuss possible areas of collaboration.
While in New Delhi, the delegation met with Canadian High Commissioner to India Stewart Beck to learn about current Canadian post-secondary involvement with India. During the past year, approximately 23,000 Indian students attended post-secondary institutions in Canada. This number will continue to grow, particularly if the growing middle class in India learns about what Canada has to offer in the area of higher education.
A final highlight of the trip was the India launch of the jointly held UNESCO Chair in Community-Based Research and Social Responsibility in Higher Education. This UNESCO Chair is shared by Dr. Rajesh Tandon based at the Society for Participatory Research in Asia (PRIA) and Dr. Budd Hall from the University of Victoria, symbolizing the longstanding relationship between the two institutions. The chair promotes community-university research partnerships and collaborations to build institutional capacity and training in the theory and practice of community-university research around the world.
The celebrations took place at the campus of Jamia Millia Islamia and included President Turpin and PRIA Board Chair Sheela Patel signing a memorandum of understanding outlining the expectations of the jointly held chair. This was followed by a symposium recognizing the tremendous work undertaken in the past by Drs. Tandon and Hall. The India launch was the first of two introducing the work of the chair to national and international communities; the second will be held at UVic on March 4 and 5.
A previous UVic delegation visited India in November 2011. At that time, UVic's Faculty of Law signed memoranda of understanding establishing faculty and student exchanges, research collaborations, seminars and possible joint graduate programs with two leading Indian law schools: the National Academy of Legal Studies and Research (NALSAR) in Hyderabad, and West Bengal National University of Juridical Sciences (WB-NUJS) in Kolkata. (See: http://bit.ly/VyY5OM).
And UVic's Department of Geography, in partnership with PRIA, operates a successful India field school program, which offered 20 students an unparalleled experiential learning opportunity during its first season in August 2011. (See: http://bit.ly/Tz8OdM)
 
Photos
In this story
Keywords: India, study abroad
People: Reeta Tremblay, Anand Prakash, K. Sreenivas, Sikata Banerjee, Rajesh Tandon, Budd Hall, Jamia Millia Islamia, Sheela Patel