An intertidal explorer
- Megan Cole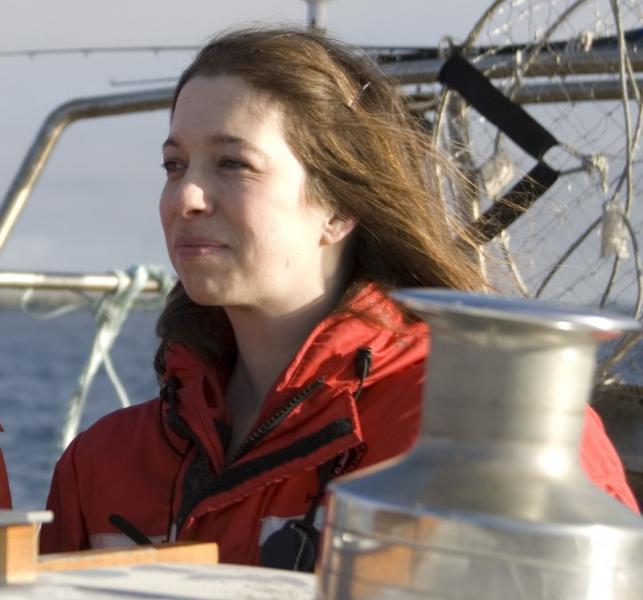 Growing up surrounded by the unique ecosystems that make up the West Coast can shape what kids want to be when they grow up. But even though Caroline Fox grew up in Lantzville, on the east coast of Vancouver Island, she says the path that led her to marine biology–and the PhD she receives in this Fall's convocation–was not entirely deliberate.
But Fox recognizes that biology is a great fit for her, as a naturally curious daughter of a scientist.
"I was raised to think critically," she says. "I also did a lot of exploring outside. Marine biology particularly suited me because it tends to involve being on the water or in the intertidal zone a lot, spending time with species like bull kelp, black bears, whales and seabirds."
For science undergraduates who dream of a career in marine biology, Fox would appear to have a dream job. She has spent time off and on since she finished her Bachelors of Science in 2003 working and studying at the Bamfield Marine Sciences Centre.
"It's a really quaint fishing village in an amazing location. The centre is ideally situated to do marine ecology research," Fox explains.
While completing her masters through Case Western Reserve University in Ohio, Fox had the opportunity to study kelp forests on the West Coast, leading to doctoral research at UVic.
"My academic path definitely just fell into place," she says. "My masters research examined kelp forest ecology and because kelp are the primary producers of the coastal zone, that naturally led to studies of ocean acidification on coastal species. My PhD research–which examined the ecological relationships between Pacific herring, a forage fish species, and terrestrial ecosystems—was a significant shift, but one that allowed me a lot of independence to develop and pursue my own questions."
Even though Fox spent the month of October teaching 24 undergraduate students participating in the intensive Fall Program at the Bamfield centre, she will be back in the lab beginning research as a Postdoctoral Fellow with  the Raincoast Conservation Foundation and the Applied Conservation Science (ACS) Lab at UVic.
"It felt great to finish my PhD, but I am filled with a little bit of nostalgia," she says. "It was a fantastic and fulfilling experience. I could have happily stayed a PhD student for a long time."
Her PhD research expanded on her master's studies in kelp forest ecosystems, and focused on the complex ecological interactions between spawning Pacific herring, salmon and marine, intertidal and terrestrial ecosystems.
Fox's postdoctoral research continues her interest in coastal ecosystems by studying at-sea marine bird populations, species-habitat relationships and the development of spatial risk assessments for marine birds and human activities.
Photos
In this story
Keywords: marine biology, doctoral research, research
People: Caroline Fox