2013 Craigdarroch Research Awards
Fine Arts, Science, Peter B. Gustavson School of Business
- Melanie Tromp Hoover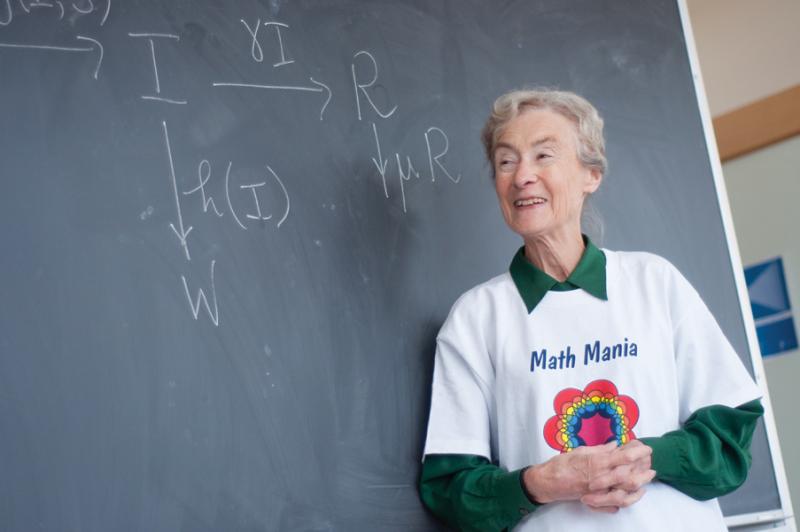 Passion, energy and a commitment to making the world a little bit better tomorrow for everyone—these are the qualities that are shared by each and every recipient of a Craigdarroch Research Award over the past decade, and this year's slate of recipients is no exception. The 2013 Craigdarroch Research Awards, which honour achievements in research at UVic, were presented at a reception event on May 2.
 
Celebrating its own ten-year anniversary as part of the University of Victoria's 50th anniversary celebrations, this year's program honoured the past 60 winners (many of whom were in attendance) and inducted four more outstanding researchers into the Craigdarroch circle.  In honour of president and vice-chancellor Dr. David Turpin's own research record and tireless work in service of expanding research support at UVic since 2000, the top honour of the night was renamed in his honour to become the David H. Turpin Gold Medal for Career Achievement.  
 
"The number and eminence of the nominations again this year speak volumes about the extraordinary investigative and creative activity taking place each day in every corner of our campus," says Dr. Howard Brunt, UVic's vice-president research. "These four individuals exemplify UVic's commitment to excellence and the open transfer of knowledge to the wider community."
David H. Turpin Gold Medal for Career Achievement in Research
Dr. Pauline van den Driessche
Department of Mathematics and Statistics
A model applied mathematician, Pauline van den Driessche is internationally recognized for her work in both mathematical biology and linear algebra. Her analyses, described as "beautiful and challenging", are, among other applications, at the forefront of research on the dynamics of epidemics, such as West Nile Virus outbreak predictions. In addition to her prodigious scholarship, she has been a stalwart mentor and guide to a new generation of mathematical scientists. For her accomplishments, she received the Krieger-Nelson Prize from the Canadian Mathematical Society and was invited to deliver the First Olga Taussky-Todd Lecture in 2007.
Craigdarroch Silver Medal for Excellence in Research
Dr. Marcus Milwright
Department of History in Art
The objects that people use in any given period of history say a lot about who they are and how they connect to each other. As one of the most active and productive Islamic art historians working in the world today, Marcus Milwright is an expert in explaining the history of medicine and cross-cultural exchange in the medieval Mediterranean world though art, architecture and objects—connecting the dots between these artifacts and social history. And he's also great at sharing what he knows: amid two distinguished Aga Khan Fellowships and more than 15 years of field work, Milwright published An Introduction to Islamic Archaeology in 2010—an award-winning textbook considered by his peers to be the world's best introduction to this field of work to date.
Craigdarroch Award for Excellence in Knowledge Mobilization
Dr. Ana Maria Peredo
Peter B. Gustavson School of Business
Director, Centre for Co-operative and Community-Based Economy
From remote Andean villages to local Vancouver Island communities to the global forums of academia, Ana Maria Peredo displays a penchant and passion for mobilizing knowledge for the cause of poverty alleviation. Her research has brought about a conceptual shift in the field of entrepreneurship: entrepreneurs aren't only individuals but whole communities, too, using their resources to create the conditions of well-being. As Director of the Centre for Co-operative and Community-Based Economy (CCCBE), she gathers together scholars, leaders and the wider community together to sustain the conversation on this and related issues.
Craigdarroch Award for Excellence in Innovation and Entrepreneurship
Dr. Frank van Veggel
Department of Chemistry
Frank van Veggel is a true pioneer in the world of prostate cancer research, creating very small things—light-emitting nanoparticles, to be precise—that can locate and attach to tumors in the human body, transforming into an effective visual marker for diagnosis and treatment plans. This ground-breaking research (in partnership with cancer research agencies and numerous industry partners) has resulted in 11 patents and disclosures to date and has the potential to be leveraged as a diagnostic tool in a number of other cancers—building on van Veggel's reputation as an entrepreneur bent on making the world a better place one nanoparticle at a time.
Photos
In this story
People: Pauline van den Driessche, Marcus Milwright, Ana Maria Peredo, Frank van Veggel