Public Administration home to new UNESCO Chair
- Christine McLaren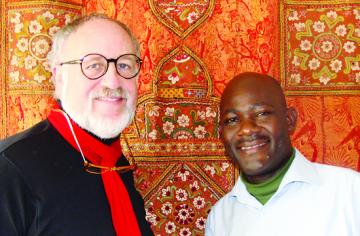 The past couple of months have been quite remarkable for Budd Hall, professor of community development in the School of Public Administration. In December, he received an honorary degree from St. Francis Xavier University for his outstanding academic service in the area of international development and adult education. Then Hall received notice of his appointmemnt as a UNESCO Chair.
UNESCO is dedicated to promoting collaboration among nations, and Hall's prestigious Chair in Community-Based Research and Social Responsibility in Higher Education provides new opportunities for his leadership in building community research capacity in the global south.
"We are pleased to contribute to, support and influence the global partnerships that have been forged by Budd, whose contributions to community-based research are well known to our faculty and the UVic community," says Mary Ellen Purkis, dean of the Faculty of Human and Social Development. "This chair is a perfect fit for our faculty, where community engagement and social responsibility are central to all our programs."
Hall, who has worked in Nigeria, Tanzania, Venezuela, Brazil, Chile, Germany, Thailand, Yemen, Uganda, England and the United States, has done both theoretical and practical work for almost 40 years in various aspects of community-based adult learning and participatory research.
his unique chair will be shared with Dr. Rajesh Tandon, a UVic honorary degree recipient and president of the Society for Participatory Research in Asia (PRIA) based in India.
"As an early priority we want to give visibility and provide support to community-university research partnerships in Africa that focus on poverty reduction, sustainability and other complex issues," says Hall.
One of the first outcomes of the appointment is the arrival of Bananuka Twine, a Commonwealth Research Scholar and Ugandan adult educator and community development worker based at Makerere University in Kampala. Twine will be named as a "fellow" of the UNESCO Chair and will be studying at UVic for six months.
"I am so fortunate to work with Budd, who is an internationally recognized researcher in adult education, and to have the opportunity to increase linkages with other universities through the networks that he has helped establish," says Twine, who is working towards his PhD in adult education at the University of Kwa-Zulu Natal in South Africa.
Hall's recent involvement with a network of institutes from around the world on the Global Alliance of Community Engaged Research (GACER) will be a central part of the work that Tandon and Hall will undertake. GACER has brought the issue of global pressure for social and economic change to the attention of universities. This global network of institutes, located at UVic and headed by Hall, put out a communiqu&e#180; in November urging universities around the world to respond to the global phenomena associated with the emerging citizen movements such as the Occupy Movement and the Arab Spring, and outlined the need for universities around the world to address issues of sustainability, poverty and social justice through increased community engagement.
As he sets his sights on a leadership role in the world conference on higher education in Barcelona set for 2013, Hall will continue to address the importance of social responsibility in higher education through shared global networks, and our students, our university and our world will be better for it.

Photos
In this story
People: Budd Hall