NEPTUNE Canada begins installation of tsunami detection array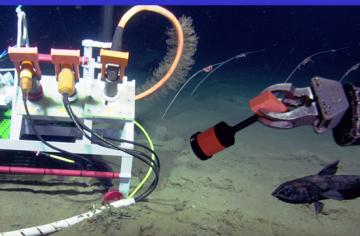 The installation of components of a deep-sea tsunami "antenna"—the first of its kind in the world—is one of the highlights of the current NEPTUNE Canada ocean expedition off the west coast of Vancouver Island. The star-shaped array of four ultra-sensitive bottom-pressure recorders is being positioned at the ends of new 25-km arms of powered fibre-optic cable and will, when completed, provide real-time data to Canadian scientists and the Pacific Tsunami Warning Network.
"By allowing researchers to refine models of how tsunami waves approach our coast, this new technology will provide early warning information that will potentially protect lives and property," says Dr. Kate Moran, director of NEPTUNE Canada.
During the expedition—which runs May 27–June 26 aboard the University of Washington research vessel Thomas G. Thompson—scientists and engineers are also installing new technology to monitor increasingly low oxygen levels that may severely affect fisheries and aquaculture, and the Vertical Profiler System, a suite of instruments to help scientists better understand the complex biology and chemistry of the ocean.
To view live video streams of deep-sea dives, as well as live updates and visual highlights, visit the new expedition website, "Wiring the Abyss 2012," [www.neptunecanada.ca/cruise12/].
NEPTUNE Canada and its coastal sister network VENUS make up the ONC Observatory, which is managed by Ocean Networks Canada for a consortium led by the University of Victoria. The observatory pioneers a new generation of ocean observation systems that, using power and the Internet, provides continuous, long-term monitoring of ocean processes and events, as they happen.
The ONC Observatory has been made possible through support from the Government of Canada through the Canada Foundation for Innovation, CANARIE and the Natural Sciences and Engineering Council, and through the Government of British Columbia.
Photos
In this story
Keywords: tsunami, Ocean Networks Canada