Top honours for down-to-earth graduate
- Christine McLaren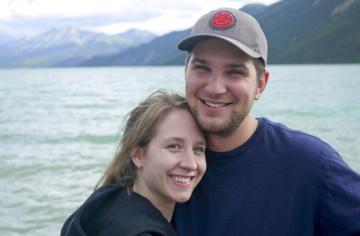 Paul Payne is firmly planted in a profession that excites him thanks to an undergraduate program that he describes as a perfect fit. This multiple award-winning grad has chosen a career in health informatics where rapidly expanding opportunities abound in the field of health care and information systems. Payne is graduating with a combined major in computer science and health information science with a near perfect grade point average garnering him Outstanding Academic Distinction in the Faculty of Human and Social Development.
 "I chose the program for the allure of a dynamic field where I could make a difference," says Payne. "I appreciate the many opportunities for clinical interaction, transforming technology and developing business models."
A self-described 'outdoorsy guy' Payne is an avid squash enthusiast and frisbee golfer but above all has an obvious passion for people. He talks in glowing terms about the School of Health Information Science and the group of students he has been with since first year.
 "There is a wonderful sense of community that is fostered by the school and I am looking forward to staying in touch with many of my fellow students," says Payne. And that connection may turn into something more engaging as Payne and a few like-minded students combine their skills for fun to create an application designed for dentists.
Payne did some travelling and working in England before choosing the "beautiful campus" of UVic and a program that fit his interests in health care and technology. Raised in Victoria, Payne travelled to northern Canada for summer work where he met his wife, Danielle who graduated from UVic in 2011. He returned to the north where he combined three co-op work terms into two rewarding jobs and where Danielle found a job in her chosen field of teaching.
Currently he is working as a senior systems analyst with the Department of Health Information Services in Yellowknife, NWT and admits that the north has many attractive qualities for him including friendly people, the ultimate playground and a brilliant 24 hours of daylight in the summer.
Payne will be returning to Victoria in September to begin a master's of science in health information science and hopes to pursue a career in network or computer security. Described as a "breath of fresh air" by staff in the school's main office Payne will undoubtedly take that fresh outlook and kind determination into all his future endeavours.
Photos
In this story
Keywords: grad, health information, student life
People: Paul Payne