UVic and Island Savings team up for families
- Amanda Farrell-Low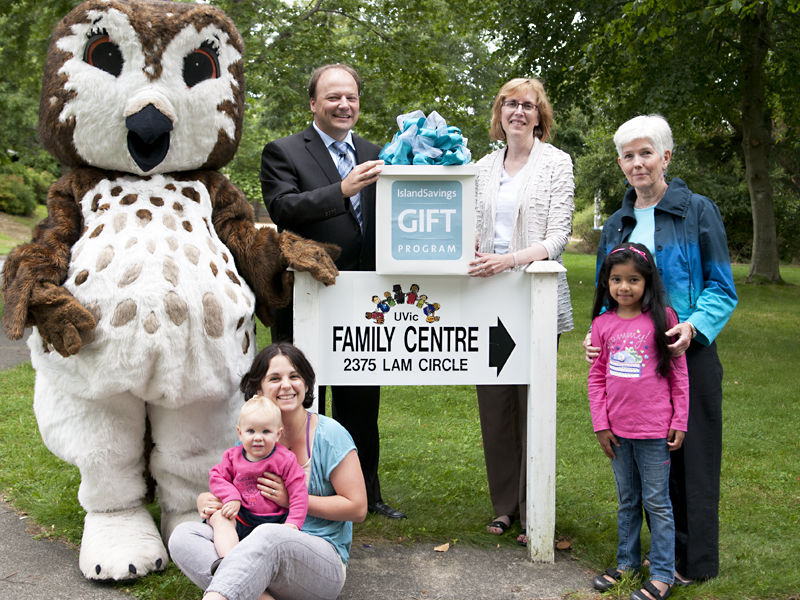 It really is a gift that will keep on giving. The University of Victoria and Island Savings have recently announced a partnership between the two institutions, as part of Island Savings' Growing Island Families Together (GIFT) program.
"The University of Victoria is pleased to join with Island Savings in this three-year partnership," says Carmen Charette, UVic's vice-president external relations. "Connections with the corporate community to assist the university in achieving its goals are an important facet of our institution."
"Island Savings is well known for partnering with established organizations to improve the quality of life and economic strength of the communities in which it does business," adds Rod Dewar, Island Savings president and CEO. "Island Savings will literally be neighbours with UVic when our Tuscany Village branch opens its doors later this fall."
Under the partnership, Island Savings will sponsor the Family Zone at UVic's 50th anniversary celebrations; support the UVic Family Centre, an important on-campus resource for students with children; and will provide bursaries for students studying in areas that pertain to families.
"We have worked with UVic to develop bursaries for graduate and undergraduate students who are using their research to make a difference for Island families in the areas of social work, early childhood education and child and youth care. This support will not only help students meet their educational goals but will ultimately give back to the Islands by way of the important work they are doing," says Dewar.
PHOTO, L-R: Penny the Owl, Island Savings Mascot; Hannah Riddett and Ashley Riddett, UVic Family Centre participants; Chris Waddell, Community Investment Developer, Island Savings; Carmen Charette, VP External Relations; Elizabeth Quong, Director UVic Family Centre; Anushah Hoque, UVic Family Centre participant (UVic Photo Services)
Photos
In this story
Keywords: partnership
People: Carmen Charette