From rocking chairs to carbon nanotubes
- Tyler Rowe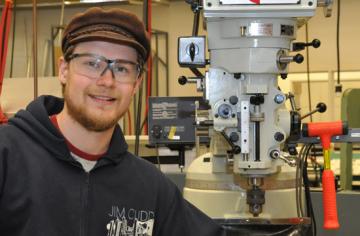 When we think of a mechanical engineer, we may think of someone building an engine. But for this year's recipient of the Canadian Society for Mechanical Engineering Medal for academic excellence, engineering is more about woodworking than making engines.
Growing up on a deer farm in Abbotsford, BC, Geoff Burton was always among the trees. And in his experience as a mechanical engineering student at UVic, he spent much of his time working with wood. Of his four co-op placements, one was "designing and building a woodshop for my dad, as a self-developed co-op", explains Burton, "And then the fourth co-op term I puttered around in my woodshop making furniture and turnings. I sent my work off to the Northwest Woodworkers Gallery in Seattle, which is one of the better places in the Northwest; some of it is still there, and some of it sold, which is good."
His most recent co-op placement found him working with Dr. Martin Jun (mechanical engineering), "tying together a bunch of projects from the past working on a pheromone dispersion, making use of an atomizer," says Burton. "The technology has been used for micro-milling cooling and for nano-technology coatings. We're also working on carbon sequestration for fuel which involves the same atomization and a titanium oxide catalyst to turn carbon dioxide into methane, oxygen and hydrogen, which can all be used as fuels."
In an earlier co-op placement, Burton worked with nanotubes. "Carbon nanotubes can be five times as strong as steel if they're in strands," he explains. "So we used the atomization technology to diffuse vapour, and keep the carbon in strands instead of the lumps it will form into naturally. That was a great project, and I got to be in the machine shop a lot, which I liked. Then I moved on to bio-medical scaffolds using chitosan [a derivative of chitin, which composes crustacean exoskeletons] that would eventually be used to house organ growth."
But at the end of the day, it's all about woodwork for Geoff Burton, a member of the Vancouver Island Woodworker's Guild. "I really want to get into automated CNC (computer numerical control) woodworking and open my own company. And that's what my honours thesis, "CNC Machining of High-Quality Furniture" was based on; I made five rocking chairs which were pretty much dead-ringers for a beautiful Sam Maloof design I saw at a woodworking conference." Burton refers to furniture designer and woodworker Sam Maloof as his "superhero." This summer, Burton will be working on a project with Jun, applying for jobs, and, of course, always making things in his woodshop.
 
Photos
In this story
Keywords: nanotechnology