Top graduate student inspired by the pyramids
- Phil Saunders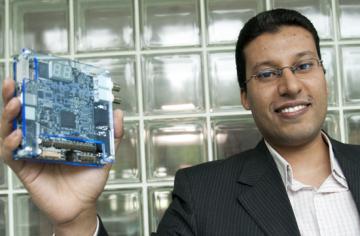 "I wanted to build the pyramids," says Dr. Haytham El Miligi, when asked why he got interested in engineering. El Miligi, who received his PhD last fall, is an instructor and researcher in UVic's Electrical and Computer Engineering Department and is being honoured with the Governor General's Gold Medal at Spring Convocation this year.
Growing up in Cairo, El Miligi was always fascinated by engineering. "We went to the pyramids on a class trip," he says. "It really is a wondrous thing, when you think about the fact that it took researchers centuries to figure out the brilliance of the engineering behind the pyramids."
The son of a teacher, El Miligi took to teaching early in his academic career.
"I believe strongly that when you know something, or have an expertise, you should share it," he says when explaining the free sessions he used to give to aspiring engineers at the Al Azhar University in Cairo where he did his bachelor's and master's degrees. "I had some industrial experience, so for me it was about noticing that students were missing the applicability and industrialization portion of their education. I was pleased when the classes became so popular."
With teaching being such a big part of his upbringing, it isn't surprising that El Miligi was nominated for a teaching award soon after earning his PhD at UVic.
"I haven't won it yet," he says smiling, "but it was nice to be acknowledged with a nomination by students, faculty and staff. It was an honour."
Inspired by the mysteries of the pyramids and their efficiency of design, in his PhD dissertation El Miligi explores the problem of creating multiprocessor-interconnects that help make computers and electronic devices more efficient. His work has resulted in a post-doctoral research project now under way at UVic.
"Ideally, cell phone and iPad batteries will be able to run longer if the devices are more efficient," he explains. "Our devices will last longer on a single charge and we won't need to use as much energy. That's really the point here."
El Miligi received the Alexander and Helen Stafford Award for academic excellence with a GPA of 9. He also presented his research at 21 national and international conferences and edited a book that turned into a series, which included researchers from around the world, all this before completing his PhD.
El Miligi feels it is very important for engineers to share their knowledge. "In this way we are able to collectively advance innovation and improve our lives." He wants the contributions he makes through his research to last and be appreciated for a long time to come—not unlike the pyramids.

 
Photos
In this story
Keywords: doctoral research, computer engineering, student life
People: Haytham El Miligi