Lemonade Tycoons
Peter B. Gustavson School of Business
- Rachel Goldsworthy, coordinator, Centre for Social and Sustainable Innovation, Gustavson School of Business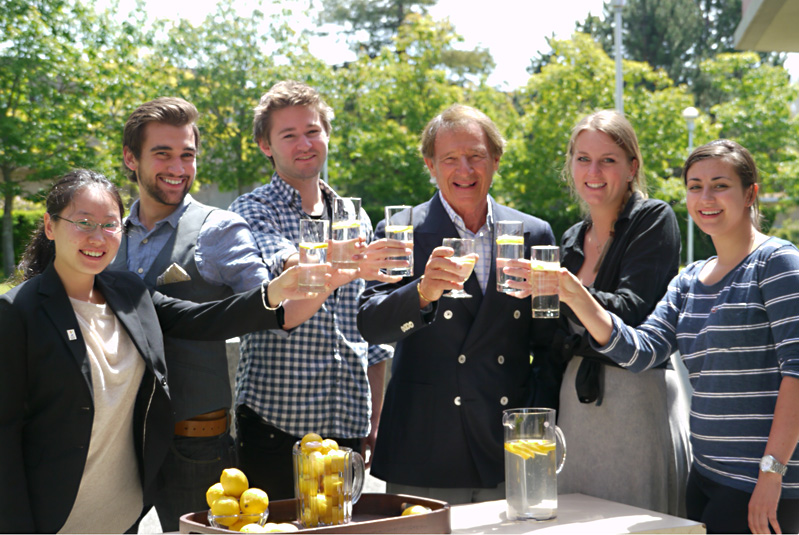 During 10 intense, lemon-squeezing days in May, BCom students Jiaying Liu, Ashleigh Fourie, Chris Harper, Alex Currie and Keenan Berg produced and sold lemonade at UVic and community events. Their juicy project earned a profit of 65¢ per glass and with every serving they sold, they also solicited donations for the Make-A-Wish Foundation, which grants wishes to children with life-threatening medical conditions. The students added up their profit plus donations for a total gift of almost $1,400.
Their initiative and drive earned them the Social Value Award of the Peter Thomas Innovation Project in which, every year, five-person teams combine creativity and teamwork with $5 in start-up capital to develop and execute a business idea.
Dr. Brock Smith, the director of the entrepreneurship specialization at the Gustavson School of Business, uses the exercise to take learning beyond the classroom and let students get a real "taste" of entrepreneurship.
 
Photos
In this story
People: Jiaying Liu, Ashleigh Fourie, Chris Harper, Alex Currie, Keenan Berg