Inspirational business prof wins major teaching award
Peter B. Gustavson School of Business
- Dianne George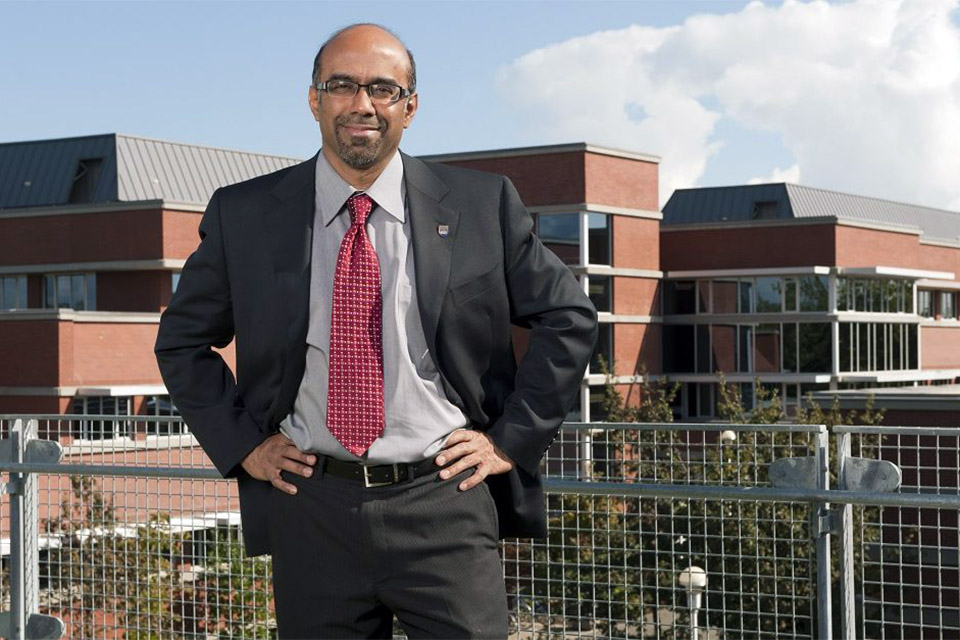 Dr. A.R. "Elango" Elangovan, professor and director of international programs with the Gustavson School of Business, is among 10 Canadian scholars honoured with a 2012 3M National Teaching Fellowship, and the ninth UVic scholar to receive this honour since its inception. The award recognizes exceptional achievements and contributions by teacher-scholars across Canada.
Students have a deep and abiding respect for Elangovan as both teacher and mentor. He has received multiple awards for his teaching excellence, including the UVic Harry Hickman Alumni Award for Excellence in Teaching, and is a repeat winner of the MBA professor of the year award.
"Elango is the sort of person you see in inspirational movies … stories about a dedicated professor or teacher who goes above and beyond to make a difference in students' lives, but he is real," says Daniela Alusik, MBA '09.
Alusik credits this charismatic professor with changing the direction of her life. She was working as a barista and got to know him over an espresso. He saw her potential and invited her to attend an MBA information session. "I never imagined that a child of a nurse and school custodian, who came to Canada as refugees, could be someone to go to graduate school."
"This is a most-deserved recognition of Dr. Elangovan's educational leadership, particularly in the area of internationalization where he has been an outstanding source of vision and guidance to the Gustavson School of Business and to the university," says UVic President and Vice-Chancellor David Turpin. "Elango's expertise in organizational behaviour combined with his knowledge of cultural sensitivities and of geopolitics greatly enhance our students' understanding of international business practices. I am absolutely delighted that he has received Canada's most prestigious teaching award."
"What makes Dr. Elangovan's teaching unique is his commitment to connect knowledge to societal values—ensuring that his teaching furthers the ability of his students to make ethical and effective decisions," says Dr. Reeta Tremblay, vice-president academic and provost. "Elango is an extraordinary human being whose generosity to his students, his colleagues, his institution and the community at large seemingly knows no bounds."
Seven years ago, Elangovan started a new stream of scholarship on the topic of callings. His research focuses on guiding people in optimizing meaning in their work lives by finding their true calling, improving organizational performance by building high-trust cultures, and assisting leaders in developing their decision-making, conflict management and leadership skills.
"As my work progressed, I began to wonder about my calling, whether I had one, and what it might be," he says. "I knew from my research that one doesn't have to feel called to a certain occupation, but it took me another two years to understand enough of myself to realize that the inviolable, central tenet of my life was the notion of living a life of dignity, and that teaching was a wonderful fit for engaging and enacting my calling to help others live such a life.
"This fellowship is truly an honour, and I am deeply grateful for the opportunities I've been given," says Elangovan.
"Dr. Elangovan is not only a superb instructor to our students, he is also an amazing administrator and mentor," says Ali Dastmalchian, dean of Gustavson. "Since 2003 when he assumed the role of director of international programs, the number of BCom students participating in exchange has risen from 33 per cent to 75 per cent. He has contributed to the development of our PhD and Master of Global Business programs and actively mentors new colleagues to help improve their performance. We are all greatly privileged to work with and learn from Elango."
Elangovan is UVic's ninth recipient of the award, which was established in 1986 through the generosity of 3M Canada and the Society for Teaching and Learning in Higher Education. Other recipients include Gweneth Doane (nursing/2006); Jamie Cassels (law/2002); Marty Wall (psychology, 2001); Aaron Devor (sociology, 2000); David Berry (chemistry/2000); Tom Cleary (English/1994); Elizabeth Tumasonis (art history/1992); and Andy Farquharson (social work/1986).
Maclean's article on Elangovan: http://bit.ly/Ay678x
Photos
In this story
Keywords: 3M National Teaching Award, 3M, international, business. award
People: A.R. "Elango" Elangovan