Entrepreurship program breeds success
Peter B. Gustavson School of Business
- Phil Saunders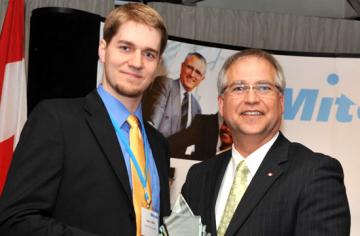 When musician, author and broadcaster Jann Arden wanted to tap into social media to boost exposure for her new book Falling Backwards, she turned to YUPIQ, a Victoria-based company that sprung directly from research by UVic Master's in Engineering students Logan Volkers, Will Fraser, Torben Werner and Jeff Crowe. The relationship meant Arden was able to access 24 times more people, which is significant given Arden's established national presence as an entertainer.
"On the emotional rollercoaster of creating and launching a business, that was definitely a high," says Volkers thinking back on the experience.
YUPIQ came out of a unique program that integrates engineering and business in one master's degree. As a result of a collaboration with BC Innovation Council, in partnership with UVic, investment group Wesley Clover and the Alacrity Foundation, and with support from the Western Economic Diversification Canada, entrepreneurship@uvic offers engineering graduates entrepreneurship training, guidance and mentorship as they development their own companies.
"From the outset the goal was to create a business," Volkers says. "The experience of doing a business plan and then implementing it was unique, and the result has meant we are all working hard at a real business after graduation."
"YUPIQ is a perfect example of why our BC Jobs Plan has identified high-tech as one our province's eight key sectors we can nurture to support job creation," said Moira Stilwell, Parliamentary Secretary for Industry, Research and Innovation. "In just a few months since finishing the entrepreneurship@UVic program, YUPIQ has doubled its staff from four to eight—with great potential for more jobs to come."
Last fall, Volkers was also singled out among the hundreds of students participating in the Mitacs Accelerate program by winning a commercialization award for his research analyzing Internet television viewer data. The project led to the launch of YUPIQ, which focuses on helping businesses use social media and Internet technology to increase exposure and sales.
"The entrepreneurship@UVic program has been instrumental in helping us get to where we are today," said Fraser, now the marketing director at YUPIQ. "We are pleased to be the first example of success stemming from this program, none of which would have been possible without all the working parts from the leadership, from advisors provided by the Alacrity Foundation, to training and office space. It's been a great opportunity for YUPIQ."
YUPIQ is now working with two other musicians to promote upcoming releases and have started working with an organics and an energy drink company to leverage their product in a social media environment.
"The key is to get people to use a product and then share it with their network and measure the results." Volkers says. "The internet provides much more opportunity to do that, and marketers are starting to realize the opportunities that exist there, and that is where our success has been."
Photos
In this story
Keywords: entrepreneurship
People: Jann Arden, Logan Volkers, Will Fraser, Torben Werner, Jeff Crowe