Lululemon founder named UVic's Distinguished Entrepreneur of the Year
Peter B. Gustavson School of Business
- Dianne George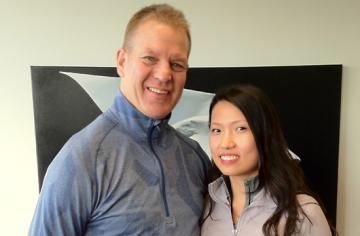 Chip Wilson, founder and chair of the board of directors of yoga-wear giant Lululemon Athletica, has been named UVic's Gustavson School of Business Distinguished Entrepreneur of the Year.
"Chip Wilson exemplifies the values of a visionary entrepreneur," says Peter B. Gustavson, founder and chair of the Distinguished Entrepreneur of the Year Award (DEYA) Committee. "He turned a passion for health and fitness into a world-wide movement and has inspired countless others through his unique outlook and commitment to quality. His values permeate everything he does," says Gustavson.
May (Hao) Cheung, a 2010 Gustavson MBA grad hired at Lululemon as a business solutions specialist, confirms that it's not just the yoga wear that has to be a good fit at Lululemon. Their extensive hiring process connects with the company's emphasis on culture. Cheung had five phone interviews before being asked to a face-to-face interview, which lasted three hours and involved four people.
"I am grateful to be part of this amazing company that Chip Wilson started not so long ago," says Cheung. "I have to admit, I still get starstruck whenever I see him walking down the hallway or by my desk. Working at Lululemon, I get to live and breathe the company's strong corporate culture every day."
Examples of the culture are everywhere in the head office. They all sit together in an open area—even directors; fitness classes are available throughout the day along with health and fitness benefits. Cheung says it's also about entrepreneurship, quality and fun.
"The culture creates such an amazing work atmosphere when everyone is so passionate about their work."
"We tell our students to do something they are passionate about," says Dr. Ali Dastmalchian, dean of the business school. "Chip is an excellent role model for them—he's built an enormously successful organization doing what he loves."
Wilson founded Lululemon in 1998 and opened its first store in Kitsilano in 2000. The company now has 191 stores and showrooms across Canada and the US and in Australia, China and New Zealand. Before creating Lululemon, he founded Westbeach Snowboard Ltd., a Vancouver-based surf, skate and snowboard retailer, and prior to that he worked in Alberta's oil and gas industry.
Wilson, who says he lives and breathes the athletic clothing business, also gives back to community. He established the annual  "Chip's Not Dead Yet Memorial Mile" run to raise funds for the BC Children's Hospital and the imagine1day charity that works to provide every child in Ethiopia a quality education.
Wilson studied at the University of Alberta and the University of Calgary where he graduated with a BA in economics; his wife Shannon holds a UVic BFA (1996) and post-degree teaching certificate (1998).
Wilson is the ninth DEYA recipient. His vision and entrepreneurial accomplishments will be celebrated at the annual gala on June 7, 2012 in Victoria.
Wilson joins a select circle of distinguished entrepreneurs: JR Shaw, founder of Shaw Communications Inc. (2011); Alex Campbell, co-founder Thrifty Foods (2010); Sir Terence Matthews, a technology entrepreneur and investor in telecommunication ventures (2009); Clive Beddoe, a founding shareholder and executive chair of WestJet (2008); David Black, founder of Canada's largest privately owned newspaper publishing company (2007); Gwyn Morgan, who established EnCana Corp. as the country's largest energy company (2006); Dave Ritchie, chair emeritus of Ritchie Bros. Auctioneers (2005); and Jeff Mallett, former president and chief operating officer of Yahoo (2004).
For DEYA gala tickets contact 250-721-6406 or atannas@uvic.ca.
Photos
In this story
Keywords: entrepreneur
People: Chip Wilson, Ali Dastmalchian