Day in the life: Barb Roberts, External Relations and Development Officer, Faculty of Social Sciences
- Anne MacLaurin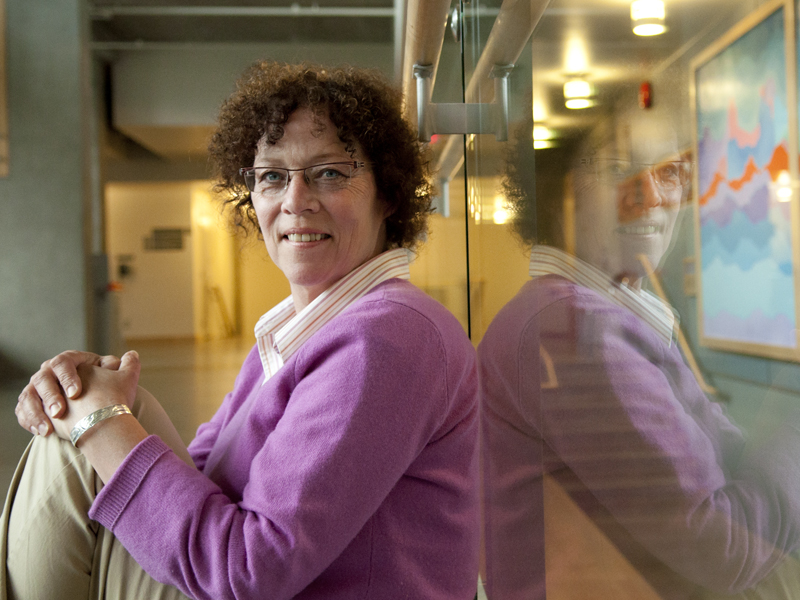 "I love my job", says  Barb Roberts, "but it is not for everyone. Most people tell me they couldn't do it, or they would hate it." As the Faculty of Social Sciences' development officer, Roberts is responsible for securing funding for innovative and important research and teaching activities as well as scholarships and bursaries. She works behind the scenes connecting with individuals, businesses, government agencies and foundations all in an effort to promote UVic's amazing students and researchers.
Roberts is this year's recipient of the Faculty of Social Sciences Meritorious Staff Contributions Award.
"My job is really interesting, I learn something new every single day," says Roberts. "I meet the most amazing people and get to work closely with our donors, students and faculty."
As a development officer, Roberts is always thinking of better ways to do her work. The job requires a lot of creativity, tenacity, and perseverance.
"Handling rejection is just part of the job," she says. "You just keep going, onto the next strategy; it's not personal."
Roberts grew up in Winnipeg but has spent most of her life in Victoria raising her two children and working in the non-profit sector. For eight years she was executive director of a non-profit agency in Victoria working with people with disabilities before she moved on to an academic fundraising role.
Roberts has travelled extensively in India, Africa, Europe, the Far East and Central America. Volunteering in the community has always been a big part of her life. Currently she is on the board of an international non-profit organization that helps teenage girls in Zimbabwe stay in school by providing school fees, clothes and books. She gives back in other ways too, such as playing in a local African marimba band for the past 15 years.
When she isn't playing in her band or working tirelessly at fundraising, Roberts is busy being a grandmother to five children, including twins.  "Family is very important to me, as is learning and making our community a better place for everyone. Any day is a great day!"
Photos
In this story
Keywords: day in the life, staff
People: Barb Roberts