Co-op helps kinesiology student affirm career goals
- Mike Hillian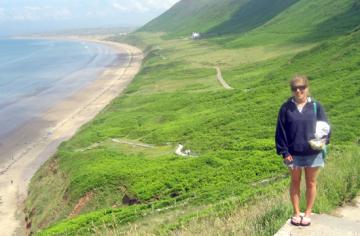 When Michelle Cox enrolled at UVic, she knew she wanted to study physiotherapy. What she didn't know was that she'd gain hands-on experience working in the field with real physiotherapists. Cox, who graduates this month with an honours degree in kinesiology, alternated her academic studies with three work terms as part of UVic's Co-operative Education Program (co-op).
It was a combination of things that first brought Cox to UVic. "I grew up in Port Alberni, so I chose UVic because it was a good school and fairly close to home," she says. "I was drawn to kinesiology because I've always been involved in sports and I'm interested in human biology."
Cox, now 23, learned about co-op during her first year when some students spoke to her class about the program. She found her first placement the summer after second year, as an outdoor recreation leader at Atlantic College in Wales. "During my first work term, I learned how to climb, belay and mountain-board and gained valuable experience working with youth with intellectual, physical and emotional disadvantages," she says. "I also gained a lot of confidence in leading and directing groups."
Throughout the work term, Cox put her coursework to practical use in areas like anatomy, motor learning and program planning. She thoroughly enjoyed the experience, although there were adjustments to make living overseas. "It was the longest I've ever been away from home, so I missed people, and sharing a tiny room with three other girls for three months had its challenges," she says. "But it was worth it, for sure!"
Next, Cox worked as a physiotherapy assistant at the Canadian Back Institute in Victoria. She learned about the inner workings of a clinic while she prepped clients for treatment, helped them with exercises and administered ultrasounds and electrical stimulation.
This relevant work experience helped Cox land her most recent co-op position as a research assistant with the Institute of Applied Physical Activity and Health Research at UVic. She worked on a project called Inclusion Works! and received a Canadian Institute for Health Research grant of over $4,000. "My main project was to research, write, pilot and evaluate the first module of a physical activity and nutrition intervention program for youth with intellectual and physical disabilities," she says.
Currently living in Bristol, England, Cox plans to have some fun before taking her next steps towards a career in physiotherapy. "I'm going to travel as much as I can before applying to do my master's degree in physiotherapy in 2013," says Cox. "Someday, I hope to open my own wellness centre on Vancouver Island." 


 
Photos
In this story
Keywords: kinesiology, co-op
People: Michelle Cox