High-ranking Chinese delegation visits campus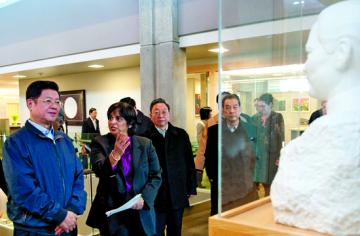 On March 15, Dr. Reeta Tremblay, vice-president academic and provost, welcomed Mr. Zhaoguo Wang, the Vice-Chairman of the Standing Committee of the Chinese National People's Congress, to the UVic campus. Vice-Chairman Wang is one of the highest-ranking members of the Chinese government, and his visit recognized UVic's strong and long-standing reputation in China.
Vice-Chairman Wang asked that the visit be informal, and he specifically requested to see the sculptured bust of Madame Soong Ching-Ling that stands outside the entrance to President Turpin's office. Wang occupies the position that Mme. Soong held from 1959 to 1974, therefore the bust holds special significance for him. Mme. Soong was the wife of Dr. Sun Yat-Sen, the founder of modern China, and she is sometimes referred to as the "mother of modern China."
The history of this marble bust can be traced back to May 8, 1981, when Dr. Howard Petch, then president of UVic, bestowed an Honourary Doctor of Laws degree on Mme. Soong in the Great Hall of the People in Beijing. This event signalled the beginning of a strong 31-year relationship with China which continues to grow and develop through partnerships between UVic and leading universities and organizations throughout China. Shortly after the conferring of the UVic degree, Mme. Soong was made the Honourary President of China, the only person ever to hold this position. She died on May 29, 1981.
The bust was presented to UVic in 1988 by the Soong Ching-Ling Foundation and the China People's Friendship Association with Foreign Countries, and then-UVic Chancellor Dr. William Gibson donated the base and clear cover to ensure it would be well displayed.
On his brief visit, Vice-Chairman Wang was accompanied by 25 senior Chinese officials, including Ambassador Junsai Zhang from Ottawa and Consul General Fei Liu from Vancouver. The delegation also visited First Peoples House where they received a traditional welcome from Coast Salish Elders Vic and Joyce Underwood.
 
Photos
In this story
Keywords: China
People: Reeta Tremblay, Zhaoguo Wang