Celebrating exceptional staff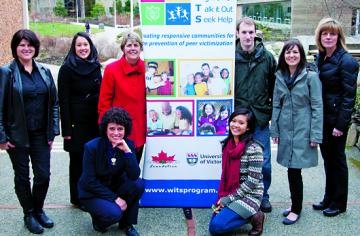 Three individuals and one innovative team have received President's Distinguished Service Awards for their outstanding contribution to the betterment of the university and its community. This year, the Team Award for Innovation was presented to the WITS Programs Team (psychology). The individual award winners are: Leah Stone (enrolment services), First Five Years: Outstanding Contribution; David Nelles (earth and ocean sciences), Award for Outstanding Service; and Diana Walton (nursing), Award for Outstanding Leadership.
"Our university is about people, and our strength is our people," says UVic President David Turpin. "We are very fortunate that our community is full of great people, who are very committed to our university—very committed to what they do, focusing on what they can contribute. I am pleased to congratulate this year's award recipients, and thank them for everything they do to make UVic a diverse, dynamic and welcoming university for our students and a stimulating and supportive place for our faculty and staff."
First Five Years—Outstanding Contribution Award
Leah Stone, Mature Student Recruitment Manager and National Student Recruitment Acting Manager, Enrolment Services, Division of Student Affairs
Leah Stone knows how to create transformative student experiences. The key ingredient is team spirit, and Leah's got it in spades.
As a UVic undergrad and a member of the women's varsity rowing team, she pulled with her team to row the Thames while the Queen of England looked on. Now, as a manager in enrolment services, Leah not only shows prospective students how they can explore their goals and ambitions, but also keeps her own team inspired.
In her first five years at UVic, Leah has been described as an effective leader with an incredible vision, a proactive style and an unflappable commitment to a service focus. According to Lori Nolt, director, Student Awards and Financial Aid, "Leah has established a campus-wide reputation as a creative and innovative professional and has made an enormous contribution to improving service delivery."
Leah's accomplishments include increasing enrolment through personalized and service-focused outreach; instigating improved collaboration among UVic partners for unified service; leading campus-wide professional development in student recruitment; and representing a unified UVic voice as an executive member and planner with Post-Secondary Institutions of BC (PSIBC) and as the BC coordinator for Canadian University Events (CUE).
"Leah is the kind of leader who creates a culture of trust, consistency and collaboration in our institution," says Kathryn MacLeod, director, Residence Services
Team Award for Innovation
WITS Programs Team: Bonnie Leadbeater, Dorian Brown, Kathreen Riel, Emilie Gladstone, Paweena Sukhawathanakul, Shelley Booth, Tracy Desjardins, David Guilbault, Russ Gothard, Alison Lynch Richard, Rachel Yeung Thompson (Department of Psychology)
An inter-professional and interdisciplinary team is nurturing positive social interactions and social responsibility to reduce bullying and peer victimization in elementary schools.
Started in 1998 in response to the death of Reena Virk, this collaboration with the Rocksolid Foundation of Victoria now includes national partnerships and collaborations for integrated support programs for children and adults in their homes, schools and communities.
Lead by UVic's Dr. Bonnie Leadbeater, Co-Director of the BC Child and Youth Health Research Network, the WITS Programs team is comprised not only of UVic students and researchers, but also of community leaders from the Rock Solid Foundation, a graphic artist, and an Aboriginal teacher and instructional technologist. Their recent innovation, a state-of-the-art interactive website, makes the evidence-based WITS programs accessible beyond urban centres to rural and remote areas of Canada.
The new WITS website (www.witsprogram.ca) extends the reach of the program, helping more children and their families and teachers to use their WITS: to walk away, ignore, talk it out and seek help to deal with peer conflicts. And the new online training ensures the continued growth of the WITS program across Canada, with over 600 people participating in the WITS Online Teacher Accreditation Training program since September 2010.
Individual Award for Excellence in Service
David Nelles, Senior Laboratory Instructo, School of Earth and Ocean Sciences
Drilling a well on campus or coordinating an international field school in Europe is all in a day's work for David Nelles. A senior laboratory instructor in the School of Earth and Ocean Sciences (SEOS), David ensures the school's extensive lab- and field-based programs deliver outstanding learning experiences for students.
David not only oversees earth and ocean sciences field schools, but also instructs and develops labs and lab manuals; schedules, oversees and mentors graduate teaching assistants; and advises on and coordinates student award nominations—including overseeing the establishment of two 30-meter wells on campus which provide SEOS students practical experience in groundwater analysis.
"We used to joke that David Nelles was the next step in human evolution because he could be everywhere at once," notes one SEOS undergraduate student. On field trips, "Dave walked twice the distance of any student, going back and forth to answer questions and pointing out interesting features in the rock."
Above all, David's commitment, his efforts and innovations and his genuine enthusiasm for studying and understanding the earth are invaluable to the experiential learning and ultimate success of SEOS students.
Individual Award for Leadership
Diana Walton, Academic Administrative Officer, School of Nursing
On most days, Diana Walton is the first to arrive and the last to leave the School of Nursing office. As academic administrative officer, she oversees operations that support over 700 students, 17 staff, 30 regular faculty and numerous sessional and adjunct faculty members.
And she's garnered the respect and admiration of everyone in the school.
"Diana inspires those with whom she works to influence change in a participatory manner, and her energy, enthusiasm and commitment to UVic are phenomenal," says Rosalie Starzomski, associate director of research and scholarship.
A 20-year employee at UVic, Walton started her career working part-time for nursing distance education and has held her current role since 2005. On top of managing accounts and budgets, preparing schedules for approximately 220 course sections per year, providing orientation for sessional faculty and contributing to committees, she fosters a strong sense of community in the School of Nursing with her natural leadership skills.
"I can think of no one who provides positive regard for students, faculty and staff as consistently as Diana. In all of the varied situations in which we find ourselves, Diana strives to bring an affirming and encouraging attitude to our workplace and to make our school inviting and supportive to all," says Noreen Frisch, director of the School of Nursing.
Photos
In this story
People: Bonnie Leadbeater, Dorian Brown, Kathreen Riel, Emilie Gladstone, Paweena Sukhawathanakul, Shelley Booth, Tracy Desjardins, David Guilbault, Russ Gothard, Alison Lynch Richard, Rachel Yeung Thompson, David Nelles, Diana Walton