Bookstore unveils new textbook sales space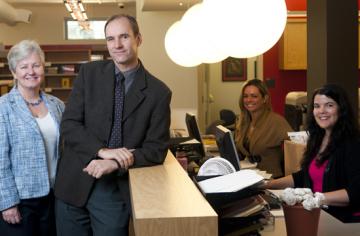 The new textbook sales area in the UVic Bookstore opened for business on March 2. The new space on the ground floor of the Campus Services Building has been redesigned to be more functional, with a flex area that can expand as needed at busy times of year. "We've renewed and retooled to make this the most modern bookstore in Canada, with a focus on the digital delivery of course materials," says Director of Campus Services Jim Forbes.
The textbook area features a new elevator, reclaimed shelving and interactive computer stations that support the shift toward a digital model of course delivery. "We have listened to customer feedback and can now provide 17 instead of 10 check-out lanes at busy times to eliminate line-ups," says Forbes. "This will make it a better customer experience."
The textbook area improvements are part of the overall renovation and expansion of the Campus Services Building, which began in June 2011 and includes new retail space for the UVic Computer Store. "This project is a testament to our staff, who were included in the planning and decision-making process from the beginning, to ensure that the end result of the renovation would put us on the cutting edge of the new retail landscape," says Forbes. The project is on schedule and is expected to be complete in July 2012.
 
Photos
In this story
Keywords: campus
People: Jim Forbes