WestJet founder named Distinguished Entrepreneur
Peter B. Gustavson School of Business
- Dianne George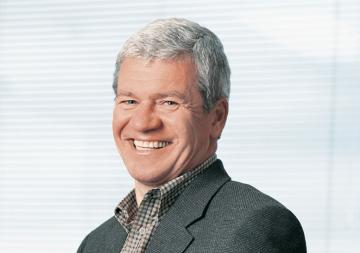 Clive Beddoe, visionary and founding shareholder of WestJet, has been named the 2008 UVic Business Distinguished Entrepreneur of the Year. This annual award, established by the faculty's advisory board, acknowledges an inspirational entrepreneur who has had a significant and positive impact on the community through his or her business leadership.
Currently chair of the WestJet board of directors, Beddoe has been instrumental in establishing WestJet as one of the most successful airlines in recent aviation history. Along with founders Mark Hill, Tim Morgan and Donald Bell, he developed WestJet into Canada's leading high-value, low-fare airline.
The idea for starting an airline grew out of Beddoe's business interests in Vancouver. "Where there is pain there is opportunity," he says. "Ironically, I was flying Air Canada and paying about $500 per round trip between Calgary and Vancouver, and that was in 1996! Since I flew for fun, I decided to buy an airplane and use it myself. Because it was an eight-seater, I was in position to sell the empty seats."
For those who know the WestJet story, the rest is history.
The upstart company began in 1996 with three aircraft flying to five cities; by 2007 its fleet had expanded to 73 aircraft flying to 47 destinations in Canada, the United States, Mexico and the Caribbean. Beddoe says the secret to the company's success is its people.
"We have deliberately built a culture of engagement and participation. What we're after are people who feel it's their company and who will go above and beyond because it is their company.
"It's a constant process, recognizing people for extraordinary conduct, for going beyond, letters written are posted on walls, put in their files, shared with managers and acknowledged. It's an old story, if you reward the conduct you want and ultimately punish what you don't, then you will build the culture."
Beddoe's leadership has placed the company at the forefront of the aviation industry. For the third year in a row, WestJet has been named the most admired corporate culture in Canada. The annual study is conducted by Waterstone Human Capital with 185 senior Canadian executives. "A company's commitment to its people is established by its leaders," says Dean of Business Dr. Ali Dastmalchian. "Mr. Beddoe is a great role model for our students."
"Clive Beddoe's entrepreneurial vision has made a significant economic impact on the smaller communities of Vancouver Island," says Allan Gilchrist, chair of the faculty's board of advisers. "WestJet has really put the Comox Valley on the radar for Albertans and helped to expand the Island's reputation as a tourism destination and reduce its reliance on more traditional resource-based industries."
The WestJet strategy is also about growing responsibly. Since 2001, the company has spent over $2 billion upgrading its fleet to more fuel-efficient aircraft. Emissions from these aircraft are 30 per cent lower on a per-person basis than its previous fleet.
A five-member panel of Faculty of Business board of adviser members assessed Beddoe's vision, entrepreneurial drive and impact on the Canadian and global economies.
Prior to September 2007, Beddoe held the roles of president and chief executive officer. Beddoe is a resident of Calgary and married with two children. He will receive the award at a gala celebration on June 12 beginning at 6 p.m. at the Victoria Conference Centre.
Past winners of the Distinguished Entrepreneur of the Year award include David Black, owner of Black Press, Canada's largest privately-owned newspaper company (2007); Gwyn Morgan, who established EnCana Corp. as the country's largest energy company (2006); Dave Ritchie, chairman of Ritchie Bros. Auctioneers (2005); and Jeff Mallett, former president and chief operating officer of Yahoo (2004).
Photos
In this story
Keywords: business, DEYA, award, entrepreneurship, westjet, founder, honored
People: Clive Beddoe