Law grad reaches back in time for safety of children and families
- Tara Sharpe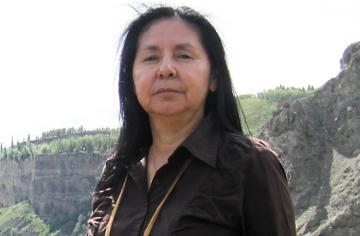 UVic law graduate Nancy Sandy, LLM, looks back to her childhood memories of the Secwepemc world for inspiration in finding and revitalizing St'exelcemc laws, values and customs. Her research has led her to work on the land with many First Nations. One memory of her mother, who passed away in 2003, resonates just as strongly as the echoes from majestic landscapes.
Sandy says her mother understood what discrimination was "long before it was a common thing to talk about. My mother would go into town to set up accounts in any store, and when she went to the restaurants in town, she'd demand service. I have had service declined to me before, but she said her money was as good as anyone else's. To her, the word 'can't' just wasn't in her dictionary.
"My research is affirmation that I am on the right path to help strengthen and decolonize the St'exelcemc of the Secwepemc Nation."
The Secwepemc peoples, whose ancestors have lived in the interior for at least 10,000 years, occupy the south central part of the province. The 17 bands are united by one language—Secwepemctsin—and a similar belief system and culture. A member of the Secwepemc Nation and former chief, Sandy is a long-time advocate of Aboriginal rights and title issues, and lives and acts on her Secwepemc customs and values as a mother and grandmother herself. Sandy was Chief Negotiator for T'exelc in treaty negotiations as well as their in-house counsel.
Sandy lives in the village of T'exelc, east of Williams Lake, where she was raised with four sisters and seven brothers in a strong matriarchal home. Sandy explains that she had six birth brothers and "one was adopted (although in our culture since he was the son of my first cousin he is my brother) and my mother raised him until he was in his teens." She has a son and daughter herself, and raised her niece and nephew. "In our culture, they become our children. They all call me 'Mom.'" This is also quickly adding up to quite a few grandchildren, and she is already a proud "hockey grandma."
Her graduate thesis speaks to Stexelcemc laws, practices and customs that kept children safe in the past—well before contact, the trauma of residential schools and the intrusion of addictions. Trauma is nothing new in her family, but neither is tenacity and courage.
In December 2005, her son suffered a horrific head injury in a hunting accident. Sandy launched her consulting business Sugar Cane Sandy's Consulting Ltd. while helping him recover. The company provides policy development and research for First Nations service organizations and Band governments. Sandy is now president of the Caring for First Nations Children Society which provides social worker training to the Aboriginal Delegated Children and Family service agencies.
Although her son's injury would normally have been a death sentence, he told her he'd be "home by August 1," and in July 2006, they were back in T'exelc. With one arm partially paralyzed, he can now swim a lap in under one minute.
This is partly what she is alluding to when she talks about "acting on customs and values" as a matriarch: she is willing to drop everything for family and community. She told UVic about her son's situation and that she may need to "turn around and come home at any time," but when the calls came, it was her grandchildren who needed her and then her brother, who was dying of pancreatic cancer. Each time she came home.
Why she applied to graduate school relates in part to her son's recovery. "My son showed me that miracles can happen. So I decided to achieve my dream."
Why she applied to UVic—situated on the territory of the Coast and Straits Salish people—was primarily due to the presence in the faculty at the time of Dr. John Borrows, a member of the Chippewas of the Nawash First Nation in Ontario, and a world-renowned Indigenous legal scholar.
For her research, she interviewed six Elders and seven Senior Elders, reaching back in time with historical profiles and exploring how the traditional laws worked to protect children and how St'exelcemc child safety laws continue to be exercised despite their erosion by state law. She is grateful for their assistance. "They trusted me with their stories. Their stories are heartwrenching. I cried and cried. You'd never know it from watching them laugh and participate in the community. I pay them the highest respect and the highest regard for telling me their stories."
For someone who constantly asks how she can help others, Sandy deservedly received support herself. She is grateful for the UVic Law Foundation fellowships; for the Perry Shawana Bursary and the Erda Ferguson Bursary; and bursaries from other sponsors including the Chief Joe Mathias Bursary and the Kara Michel Bursary; as well as family support and encouragement. Christine Scotnicki, a UVic alumna and friend who was called to the Bar at the same time, read her papers, let her housesit when she was away on business (during her studies, Sandy lived in a travel trailer at the Fort Victoria RV Park) and provided moral support. Another long-time friend and former co-worker, Sandra Ritchot, phoned constantly to check on her. "Their support really helped me through."
Sandy completed the requirements for her master of law degree in less than two years under Borrows' supervision—22 years after being called to the Bar in 1989 and 24 years after graduating from UBC. "That just goes to show, with determination you can do these things!"
Even with family, community, business and academic commitments, Sandy makes sure to make time for herself: she is a level-1 aromatherapist and level-2 reikei practitioner; enjoys traditional activities such as berry picking, hunting, preserving meat and making traditional medicines; and appreciates all forms of music. "I pretty much listen to everything," she says, including classic rock and heavy metal.
Years ago, she wanted to buy ACDC tickets for her son and daughters, and ended up having to wear a neon bracelet to court. (The bracelets were bought a week in advance of actual tickets and couldn't be removed before the concert.) The senior counsel in court asked, what was on Sandy's wrist? When she found out it was all about concert tickets, this same lawyer replied, "When I die, I want to come back as one of your children!"
Sandy's future plans are to publish her thesis. She wants to continue her research and draw out the S'excelcemc laws to help the Nation achieve self-government and self-determination in the area of child safety, and to build the foundation for a health, strong and unified Secwepemc Nation.
"And the Elders are saying, go get your PhD and write a book."
So that is exactly what she intends to do.
Photos
In this story