Plugged in: Using social media in emergency management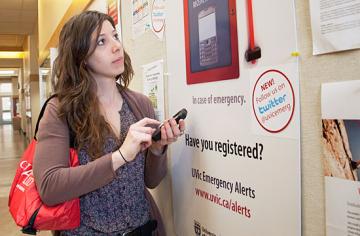 Did you know that May 1-7, 2011, is national Emergency Preparedness Week? We all know that basic preparedness like having an emergency kit on hand is important, but in today's social media-savvy society the ability to draw on technology in times of crisis can make a world of difference.
According to USA Today, within days of the devastating 8.9 earthquake and tsunami in Japan, 64 per cent of blogs, 32 per cent of Twitter feeds and the top 20 viewed YouTube videos carried information about the country's state of emergency. More and more people are plugging in to social media and open-source networking sites as a fast and efficient way to gather and share critical information during an emergency.
Crowdsourced crisis maps like New Zealand's Christchurch Recovery Map and Japan's sinsai.info are innovative uses of open-source technology. Whether sharing updates about a collapsed building, a school closure or the whereabouts of a functional ATM and hot java, these community-compiled maps have become an integral part of recent recovery efforts.
Another relatively new tool, Google Person Finder, has revolutionized the way loved ones reconnect after a catastrophic event. This registry and message board provides a place for survivors and those affected by disaster to post and search information on individuals' status and location.
What about emergency preparedness?
Thanks to Smartphone technology and an ever-growing world of apps, taking steps toward personal preparedness is easier than ever. Check out QuakeAware (free) for tips on earthquake preparedness and response, keep first aid how-to's at your fingertips with Pocket First Aid and CPR ($3.99) and stay informed about major world crises with Disaster Alert ($0.99).
Have you heard of UVic Emergency Alerts? During a major campus crisis UVic will send critical information via this mass notification system to all UVic phones and emails. Alerts will also send updates by text message and Twitter (follow us @uvicemerg). To receive Alerts texts, update your cell phone number in your UVic personal profile. In an emergency, information will also be available on the main UVic webpage, FaceBook and by tuning in to CFUV 101.9 FM radio.
Take the opportunity now to explore how you might use technology to prepare for, and respond to, the unexpected.
For more information visit UVic's Emergency Management website or contact Danika Lawson, emergency planning assistant (lawsond@uvic.ca), or Daphne Donaldson, manager, emergency planning (ddonald@uvic.ca).
Connect U special presentation
Don't miss Chris Hawker from the University of Canterbury (UC), Christchurch, New Zealand at the Connect U staff conference on June 1 and 2, 2011. Chris will speak about his experience as the emergency response incident controller during UC's earthquake response and recovery.
Occupational Health & Safety emergency preparedness training for staff/faculty

Getting Out Safely: Evacuating a Damaged Building
Earthquake Injuries: How Basic First Aid Skills Will Make a Difference
Putting Out Fires: Fire Extinguisher Training
Register online at http://ohs.uvic.ca/trainingcalendar.php
Win a Quake Aid kit!
Visit http://ohs.uvic.ca/emergency_management/epweek.php to enter the Emergency Info Search and Rescue contest for your chance to win.
Photos
In this story
Keywords: using, social, media, emergencies