Recycling in the caf
- Tara Sharpe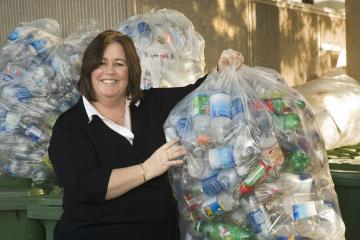 The English ditty "Ten Green Bottles" means a lot more to Lisa Church than just an old rhyme children still sing. Church, University of Victoria's retail outlets coordinator, devised an ingenious "green" plan for bottles and other recyclables collected in the University Centre cafeteria, and personally made sure local children could directly benefit from the collection of hundreds of bottles.
Church joined UVic's Housing, Food and Conference Services department in November 2007 and quickly became tired of seeing recyclables being mixed with garbage in cafeteria receptacles. She approached her managers with a plan, bought a stack of extra trays and in August 2008 removed every garbage container in the Centre Caf eating areas. Customers leave all waste on trays, and the trays are then stacked on carts and rolled into the dishwashing area to be meticulously picked over by food services staff.
"Our team is doing an amazing job of separating all the paper, plastic, glass and food," says Church. "We went from a minimal number of recycled items in the recycling receptacles to literally being overrun with plastics and glass, and tripling the number of bottles collected for recycling."
This became an instant good news story for local kids when Church put out an offer to area schools, sports groups and other youth organizations: they could collect the empties for their fundraising programs. The mother of two children, Church knew schools were facing a dip in fundraising revenue from vending machines and chocolate sales due to a provincial "healthier choices" program, and this was one answer. She had her first response within 15 seconds of emailing her offer to the schools. Now she has a waiting list and is still looking for names.
Each group can potentially raise $800 to $1,500 each month. The bottles are picked up three times a week by school volunteers, who deliver the cluster of bags to Victoria's bottle depots for cash. Last month, Eagle View Elementary School was the lucky recipient of all the Centre Caf bottles.
Annette Phillips, executive assistant for UVic's Centre for Global Studies, is an Eagle View parent and volunteered in January for the school's program. She says, "Fund-raising was getting a little harder without the bottles from vending machines, and the UVic program has made a big difference to us." The money has contributed toward purchasing several Eagle View wish- list items, including new computer monitors, a new microscope, and even a rock-climbing wall in the school gym.
Now that food services staff are sorting through the food trays, sandwich bread and other compostable materials are staying out of the garbage more; at least five large compost containers are filled each day. Before, the Centre Caf's dumpster would be completely full by the end of the second day and now it takes a whole week before the garbage reaches the top.
"We recycle now right down to the paper wrapper on the straws," adds Church.
And Church hasn't stopped coming up with good ideas. Next, she would like to see UVic welcome elementary students into the cafeteria for regular tours so the kids can witness the process for themselves.
Each month, a new organization is selected based on a first-come, first-served system. The name of the current organization is posted on the Centre Caf's community board. School groups and other youth organizations can add their names to the list by contacting Church at 250-721-8429 or church@uvic.ca.
Photos
In this story