Price: Co-op leads to graduate work in nuclear physics
- Cassidy Nunn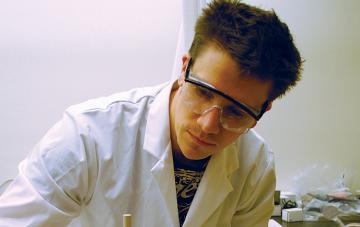 When Eric Price arrived at UVic five years ago, he was steering himself toward a career as a personal trainer. After a few chemistry classes, however, his plans changed. He discovered a passion for research through four successful work terms with the Chemistry Co-op Program. Now, as he prepares to graduate with his Bachelor of Science degree in chemistry, you'd think he might be ready for a well-earned break. Instead, the recent recipient of an entrance scholarship for the doctoral program in chemistry at UBC is already hard at work on his PhD.
Price credits the co-op program for providing the opportunity to enrich his studies and gain valuable work experience. "I think the co-op program was the best thing that I did during my degree, and it has definitely helped to influence my life after I finished my degree."
His last two work terms at TRIUMF (the national laboratory for particle and nuclear physics in Vancouver) were instrumental in landing his PhD position. Dr. Mike Adam, a senior research scientist at TRIUMF, was so impressed with Price's work term that he has become one of his PhD co-supervisors. "I'm excited about the work that he'll produce," says Adam.
One of the tasks that Price enjoyed most during his work terms was learning how to use new technologies. At TRIUMF he was involved in radiochemistry, something that most students don't have the opportunity to try in school. "Working with a company or professor allows you to do a lot of things and learn how to use a lot of equipment that you wouldn't have the time for during your degree," he says.
While at TRIUMF, Price helped develop radiopharmaceuticals used to diagnose patients with diseases such as cancer and Parkinson's. He says the most rewarding aspect of these work terms was the impact he was having on patients' lives.
For the next few years Price is looking forward to working on his PhD and continuing to contribute to the team at TRIUMF.
Photos
In this story