Pence awarded prestigious UNESCO Chair
- Patty Pitts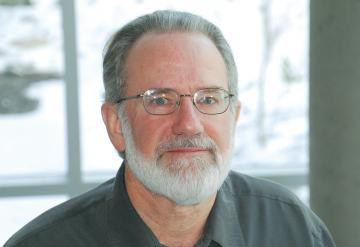 For many years, University of Victoria child and youth care professor Alan Pence has researched and advocated for improving educational opportunities for early childhood development leaders in Sub-Saharan Africa.
Now those efforts will be bolstered by Pence's appointment as UNESCO Chair in Early Childhood Care, Education and Development, one of only six in Canada (all focusing on different topics) and the only one in Western Canada. Pence feels the renewable three-year term appointment will help him attract additional funds for research and development in Africa.
"The chair will not result in a change in the direction of my work, but it's recognition and support for the work we've done," says Pence. The focus of his appointment will primarily be the 14 African countries involved in the Early Childhood Development Virtual University (ECDVU), which Pence developed. Since its inception in 2000, 50 students have completed either its master's or one-year post-graduate professional specialization certificate and another 25 are anticipated in the certificate program in 2009/10.
"Through a combination of face-to-face meetings and online learning, all the students stay employed in their countries, so there has been virtually no brain drain," says Pence, "and the vast majority of the graduates stay in the area of child and family development."
A key facet of the ECDVU is the incorporation of African perspectives and knowledge about early childhood development into the program's curriculum. The domination of Euro-Western beliefs in this area throughout the world has recently become of concern to the Society for Research in Child Development (SRCD), the pre-eminent academic association in the field. It's why the society agreed to support a proposal from Pence and University of South Florida colleague Dr. Kofi Marfo for a symposium to be held Feb. 5 at UVic. Pence notes that the symposium, "Strengthening Africa's Contributions to Child Development Research," will bring some of the world's most respected child developmentalists to campus for several days of planning and a public symposium day of presentations and discussion.
Pence says the symposium complements the UNESCO chair position and will form the basis for additional symposia and conferences to take place in Sub-Saharan Africa.
On the following day, Feb. 6, many of the same experts will join affiliates of the Human Early Learning Partnership (HELP)—an interdisciplinary research network of faculty, researchers and graduate students from BC universities—for a day of presentations and discussions on international child development research.
More information about the Feb. 5 and Feb. 6 events: http://reach.uvic.ca/uvicsubpage.htm
Photos
In this story