Student Affairs and UVic Business form partnership in learning
Peter B. Gustavson School of Business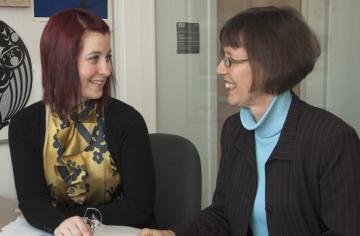 It's kind of like taking a mini MBA. That's how business professor A.R. Elangovan describes the custom leadership training the Division of Student Affairs is receiving from UVic's Gustavson School of Business.
Student Affairs' partnership with UVic Business came about when the division's executive team was looking for some professional development opportunities for its staff, but couldn't find anything that focused on developing managerial and leadership skills for student affairs professionals. When business dean Ali Dastmalchian offered to develop an executive leadership course specifically for his department, Student Affairs AVP Jim Dunsdon knew he was on to a good thing.
"Professional development and effective leadership and managerial skills are critical in providing better services and support programs for students, faculty, and staff," says Dunsdon. "We're very fortunate to be able to partner with UVic's School of Business and receive instruction from its outstanding faculty."
For the past few months, 35 managers from the division have been developing effective leadership and management skills, including how to manage organizations, people, change and services.
The course highlights and integrates all the roles that the staff members need to engage in as leaders and managers," Elangovan explains. "They may not have to engage in all the roles all the time, but this raises awareness of the different needs and demands that leaders face and where they stand in that picture. It also gives them a common language to operate from, which really helps with building an effective team and fostering a culture based on a shared understanding of excellence in performance."
The division also hired Carney Strangea professor of higher education and student affairs from Bowling Green State University in Ohioto teach a one-day student-affairs specific course.
"I really appreciate being in a program that directly relates to what I'm doing," says Kathleen Boland, UVic's assistant registrar. "We're managers and we're going to courses that are giving us a framework to be managers within the Division of Student Affairs. That alignment is really critical."
The feedback from the participants is incredibly positive, and not just the comments from senior management.
"In my job I focus on details; I do a lot of budgets and attend to the smaller details of all the office projects," says Veronica Lefebvre, the director's assistant in the Office of Indigenous Affairs. "In this class they teach you how to look at the bigger picture, what outcomes might occur and how to plan for them."
"I'm also learning that business isn't exactly what I thought it was. I thought it would be numbers, accounting, bureaucracy. This course is opening my eyes to different ways of thinking, especially when it comes to managing people. Up until now, I had never thought about managing people as part of my career path but now am considering it."
And it's not just the Division of Students Affairs that is benefiting from this partnership. "Even though I've done this for years with other groups, this has a special feeling for me," says Elangovan. "I know the environment and the people so it feels like you're helping one of your own. This provides an extra level of enjoyment and interest for a lot of us who are teaching in this program. We'd be delighted to offer this to other UVic departments." The course runs until April.
Photos
In this story
Keywords: partnership, learning