Going Viral: News media latch onto grad student's research
- Genevieve von Petzinger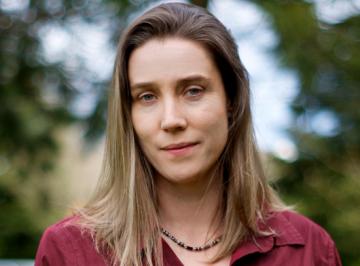 On Feb. 16, if you had Google-searched my name, you would have come up with my Facebook profile and the abstract for my presentation last April at the Paleoanthropology Society meeting in Chicago. The next day, when New Scientist published an online version of their Feb. 20 cover story on my research ("Stone Age Code: The Writing on the Cave Wall"), there were pages of hits returned with my name. My research had gone "viral."
Since then, there has been an absolute storm of media requests, and the global response has far exceeded my wildest imaginings. I recently appeared on the Daily Planet show on the Discovery Channel; my research is going to be part of a French/German documentary for the ARTE network in Continental Europe; and my work has been featured in nearly a dozen countries in substantial articles for national newspapers or national science magazines. The countries include Spain, France, Italy, Germany, Switzerland, the Czech Republic, Denmark, Russia, Poland, Iran and Canada. I have also done multiple radio interviews in both English and French. I am currently collaborating with the Smithsonian Museum to add a section about my research to its permanent online exhibit on human origins. As well, the Bradshaw Foundation rock art website has asked me to be a permanent contributor.
Obviously, there is a lot of luck and timing involved when it comes to attracting the kind of worldwide reaction that my research has received, but there are also quite a few things that can be done to make sure that the right people know when this is happening. I knew this was going to be a huge opportunity for me to publicize my research, and I wanted to make sure that I did not miss out. With that in mind, I contacted the UVic Communications office before the New Scientist article came out, and we had a media tip ready to be released at the same time that the story was published.
The instant media reaction was nearly overwhelming, and I had to quickly become a lot more media savvy than I ever thought would be required for someone quietly studying Ice Age cave art.
Below are a few of the most useful things I learned over the course of this wild ride:
Giving reporters adequate time and comprehensive answers to their questions will result in better stories.
All journalists want to write a great piece, so make sure you give them enough to work with.
Explore all possibilities.

Sometimes what starts out as seeming like an insignificant piece can become a major article, so my policy was to respond to all media requests, whether they seemed "important" or not.
Don't re-invent the wheel.

If you have gone to the trouble of creating well-thought out answers to one reporter's email questions, there is nothing wrong with using the same answer or a slightly altered version of that answer for another interview.
Create a media package that you can send out right away when an interview request comes in.

This gives reporters something to work with while you answer any specific questions they may have. My package consisted of an overview of my research project and photos of the cave art. Also, there is nothing wrong with sending along any PDF versions of articles that have already been written about your work. This gives the reporter an opportunity to see how others have approached your research, and helps them decide what unique perspective they want to take.
Use each contact as an opportunity to make more contacts.

By promoting my research globally, I was hoping to connect with scholars working in my field in parts of the world where I would like to do my PhD research. Journalists and science writers are the perfect people to ask about scholars in their countries. In the cases of Russia and the Czech Republic, where the language barrier could have been a huge issue when it came to me making contact directly, it was the local journalist who facilitated it for me, and even acted as an intermediary. I now have excellent new opportunities opening up for me in these two countries, and all because I asked.
Photos
In this story