Local graduate has an international focus
- Danica Boyce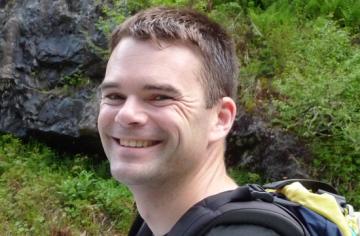 His school is close to home, but his research has already had a global impact. Darren Boss, a native of Victoria, BC, graduates from UVic this spring with the Jubilee Medal in Social Sciences for the highest undergraduate grade-point average in that faculty.
Before Boss began the geomatics program in the departments of geography and computer science, he studied briefly in Vancouver and then expanded his focus by taking on work in the field of international development and food security in central Africa for five years. This experience inspired him to seek a broader knowledge of geomatics and Geographic Information Systems at UVic.
"I saw the contribution geographic information science was making in international development," he recalls, "and I was really interested in that combination of geography and computer science. It was seeing it actually in use overseas that really piqued my interest, so I looked around and found this program at UVic. The university also happened to be in my hometown, so it was a perfect fit."
Of UVic's contribution to his professional development, he reports that, "what stands out overall is that they offer such an excellent program. I really enjoyed the flexibility of the instructors in allowing me to make use of my prior knowledge and experience in my projects for the program."
He notes fondly the support of one instructor in particular. "Dr. Ian O'Connell was very supportive of me throughout the program," he says. Boss took several classes with O'Connell, who is the lead instructor for the UVic's geomatics program, and found his guidance extremely valuable. "He was instrumental in my education here."
O'Connell also assisted Boss in obtaining recognition for his academic achievements. "Dr. O'Connell nominated me for the ESRI Canada Scholarship Award, and also brought to my attention the Marble-Boyle Undergraduate Achievement Awards in geographic science, awarded by the Association of American Geographers,"
Boss won both awards.
But Boss's interest in geography and development extends beyond academic and professional pursuits. He currently volunteers his time producing online maps for a US non-profit organization and is newly involved in a field called "crisis mapping," addressing social issues and disaster management situations overseas.
Boss recently began working for an internet geography firm in Victoria. Of the future, he says, "eventually, I'd like to return to working in international development, to make use of the new education and skills that I've gained from my time at UVic and through my current experience in the field. The end goal is to wind up back overseas."

 
Photos
In this story