In memoriam: Dr. Ian McTaggart-Cowan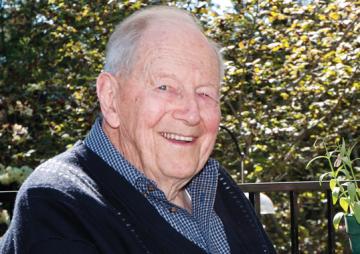 Dr. Ian McTaggart-Cowan, UVic's Chancellor from 1979 to 1984 and one of Canada's foremost wildlife biologists and conservationists, died April 18 in Victoria, just two months shy of his 100th birthday. He received an honorary degree from UVic in 1985 and also served on the university's board of governors and alumni board of directors.
In 2005 the Dr. Ian McTaggart-Cowan Professorship in Biodiversity Conservation and Ecological Restoration was established at UVic with a $750,000 donation from the provincial government. Subsequent donations from the Habitat Conservation Trust, BC Hydro and many private donors increased the value of the professorship to $1 million.
In 2009, the professorship was awarded for the first time to Dr. Brian Starzomski who described McTaggart-Cowan as "a wonderful researcher, teacher, mentor and conservationist, and it's my hope to follow in his footsteps."
As well, over the years a University of Victoria residence and two scholarships have been named in his honour.
McTaggart-Cowan was born in Edinburgh, Scotland, in 1910, and immigrated to Canada at age three. His mother encouraged an early interest in natural history, an interest that grew as he did. A groundbreaker, he has influenced generations of wildlife scientists and shaped public policy on wildlife in this province.
During his 35 years as a professor at the University of British Columbia, McTaggart-Cowan became renowned through his studies and publications and was a forerunner to David Suzuki, hosting his own television series and producing more than 100 documentaries on wildlife and conservation in Canada.
His extensive public service contributions include: founding member of the National Research Council of Canada; chair of the Environment Council of Canada; inaugural and 19-year chair of the Public Advisory Board of the BC Habitat Conservation Trust Fund; an instrumental member and later chair of the internationally acclaimed Birds of British Columbia authors team; and long-serving director of The Nature Trust of British Columbia. McTaggart-Cowan's awards and distinctions also include Orders of Canada and British Columbia.
He spent his entire life as a learner and educator. In his own words, "Evolution is never finished, and this applies equally to ideas and to organisms."
Photos
In this story
Keywords: memori, dr, ian, mctaggartcowan