Friedland: Single mum unwraps new career in Indigenous law
- Mark Vardy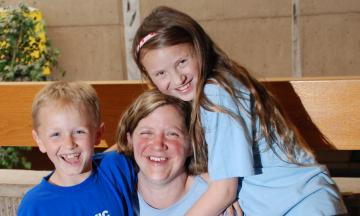 Hadley Friedland was in Edmonton running a life-skills group for teenagers coming off the street or out of jail when her sister gave her a birthday present that sparked a remarkable sequence of events. The birthday present? The Law School Admission Test.
"She registered me for the next exam and then sent me the practice books. She was like, 'Just try it,'" Hadley says.
"I worked in children's services for about eight years, and I knew I had to look at the issues from a different perspective. I was front line and you see individuals going through the same issues again and again." Her concern for the systemic problems faced by the teens she worked with led to a specific focus on the interaction between the Canadian legal system and Indigenous law.
"When you look at Aboriginal law, as it is right now in Canadian law, there are lots of premises you have to accept that seem pretty disrespectful," she says.
The Faculty of Law's reputation for social justice and Indigenous law brought her here in September 2005.
"I quit my job, I moved here with two kids, and I thought, 'What have I done?' But once I started classes, I realized I just love law," she says.
"I'd always be asking questions, because I thought I didn't know anything, so I'd say, 'This doesn't make sense,' and my professors would respond, 'That's a good point.' And I'd be like, 'It wasn't supposed to be a point!'"
Successfully balancing the responsibilities of single parenting with the demands of law school gave Hadley insights she then shared in time-management workshops. The key? Use non-productive time to be productive: "If you're too tired to work, do laundry. If you want to procrastinate, go grocery shopping."
Hadley won a considerable stack of awards, including the President's Scholarship, and is now graduating near the top of her class. But the most significant honour, she says, was being chosen by her peers to deliver an address at their formal graduating dinner.
"What stands out most for me is my fellow students—just amazing diversity, a really cool mix of people," she says. "And they felt that I could say something meaningful to them and represent the class. That meant a lot to me."
She credits faculty with helping turn her heart-wrenching experiences of working with abused, neglected and addicted teens into solid legal arguments.
Hadley is returning to Edmonton to take her master's in Law at the University of Alberta. She is considering a career as either an academic or a lawyer, but either way, she says, one thing is certain: increasing the respect with which Canadian law interacts with Indigenous law will be her focus.
Photos
In this story
Keywords: friedland, unwraps, indigenous, law