What's in a name? UVic's Peter B. Gustavson School of Business
Peter B. Gustavson School of Business
- Dianne George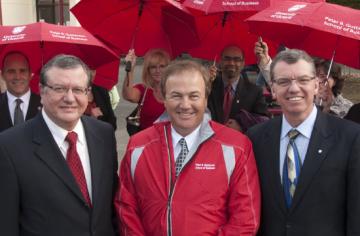 The Michele Pujol Room was the site of an Oct. 22 event that saw more than 200 people celebrate the renaming of the Faculty of Business to the Peter B. Gustavson School of Business. This is the first time in UVic's history that a faculty has been named after an individual.
"Because this is such an important moment for us, we wanted share it with the people who are critical to the development of our future leaders," said Dr. Ali Dastmalchian, dean of business. The dean then invited 10 individuals representing students, alumni, staff, faculty, media, co-op employers, First Nation communities, the business community and donors on stage to help insert puzzle pieces to create the new logo.
Gustavson has been involved with the Faculty of Business since 2003 as an employer, member of its advisory board, executive-in-residence and chair of the Distinguished Entrepreneur of the Year Award event that he helped establish. His March 2010 gift of $10 million is among the largest received by the university and the most substantial received by the 20-year-old business school. The funds will be used to finance scholarships, professorships and research, and to support innovation in student programs, all of which will help to ensure the Gustavson School of Business remains competitive with schools across Canada and internationally.
"Thank you, Peter, for this strong expression of your faith in us, and thank you for your commitment to our business school," said UVic President David Turpin.
"The Peter B. Gustavson School of Business can go from strength to strength; committed to outstanding teaching and research, providing an international and experiential education rooted in sustainability and social responsibility," he said. "This excellence and bright future are made possible thanks to the support of friends like Peter."
Accepting the honour and calling it the "the highlight of his business career," Gustavson thanked the Board of Governors and the Senate, saying how proud and honoured he was to have his name associated with the business school.
"The day you sell your business for $370 million is a great day." he deadpanned. "Today is an even better day.
"As a business person and entrepreneur, I can think of no greater honour one can receive than to have one's name associated with a business school. To have my name associated with such a great business school as we have here at the University of Victoria is simply unbelievable and something I am very grateful for."
Fourth-year business student Connor Edwards, president of the Commerce Students Society, said he felt the naming was a "win-win" for everyone involved. "The biggest thing, for me, is the increased recognition of the school," he said. "Having a name allows us to distinguish ourselves through that person's values. I've come to know that the Gustavson family values consist of hard work, innovation and a commitment to excellence."
"Peter Gustavson is a highly successful entrepreneur with an international mindset, a leader and visionary," said Dastmalchian. "With our unique brand of business education, and Peter's name and ongoing support, we will take this school to a new level of excellence."
Full coverage of the event can be viewed at www.gustavson.uvic.ca/naming.
Photos
In this story