Political cost key part of hitting net-zero emissions
Graduate Studies, Human and Social Development
- Stephanie Harrington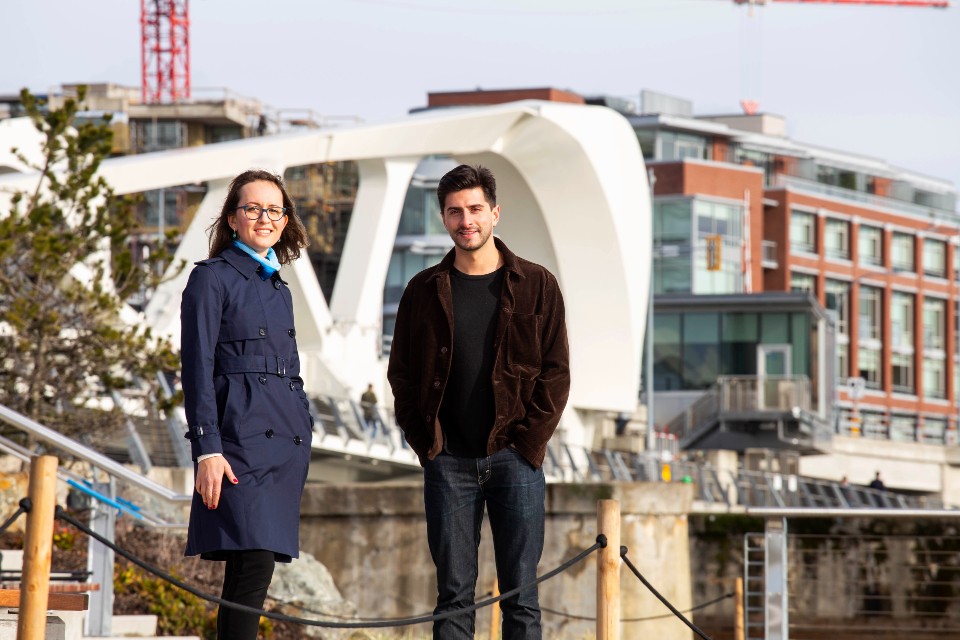 We are in a climate crisis and Canada has an emissions problem. 
The stakes are high, for the environment, for the economy—and for governments trying to implement smart climate policies.
University of Victoria climate policy expert Katya Rhodes says the know-how exists to fight the climate crisis, but politicians need to choose policies that are both effective and acceptable to voters.
"The climate crisis, it's getting worse and worse," Rhodes says. "My vision is to reduce climate change in BC, Canada and worldwide. For that, we need compulsory and politically acceptable climate policy." 
Hitting net-zero with public support
Studies show that Canada will likely miss its targets to reduce greenhouse gas emissions (GHGs) to 40 per cent below 2005 levels by 2030 and to net-zero by 2050. 
Rhodes's latest project, "Achieving Canada's net-zero emissions target: Effectiveness and acceptability of climate policy pathways," is assessing ways Canada can meet its GHG emissions targets while winning support from everyday Canadians.  
Her net-zero study will be the first to assess existing and hypothetical climate policies to achieve Canada's emissions targets. The study will also measure the chances of long-term policy survival by calculating the political cost of various policies per tonne of GHGs reduced. 
"There are multiple ways to achieve Canadian climate targets," Rhodes says. "What we're interested in is understanding characteristics of public support around alternative options."  
The cost of carbon pricing
Take the carbon tax. Rhodes's research shows that although many economists and policy advocacy groups recommend increasing a carbon price to reduce emissions, carbon pricing remains a divisive issue for voters.
In BC, Rhodes says measures such as the clean electricity standards and low-carbon fuel standard have led to significant emissions reductions—more than the province's carbon tax, in some cases—without political opposition. 
Envisioning different futures
Rhodes, an assistant professor at UVic's School of Public Administration (SPA) and member of the Institute for Integrated Energy Systems (IESVic), has enlisted the help of PhD student Aaron Hoyle for the net-zero research.
Hoyle, a climate and energy policy researcher who previously worked at the Canada Energy Regulator, has a background in mineral resources engineering and energy economics. He is working to develop an energy systems model that can better assess greenhouse gas emissions and the economic impacts of policies that hit Canada's climate targets. 
He'll then devise a range of hypothetical climate policy packages, and conduct web surveys with Canadians on which measures they support or oppose—and why. It's the combination of modelling and survey work that makes the research unique.
"We're trying to design a study that paints a realistic vision of different futures for people, and those are tied into modelling different policy packages," Hoyle says.
Climate action for people and planet
The findings will be shared with partner organizations in Rhodes's Social Sciences and Humanities Research Council Insight grant, including the federal government's Environment and Climate Change Canada and the think-tank Canadian Climate Institute. 
Hoyle, who grew up in a family of environmentalists, says it's exciting to have the chance to directly inform how Canada tackles the climate crisis and to work with leading researchers like Rhodes.
I believe that climate policy has to work for people for it to work for the planet. SPA and IESVic are committed to the kind of interdisciplinary research that needs to be done, given the nature of our emissions problem.

—Aaron Hoyle
Informed choices to curb climate change
Through students like Hoyle, Rhodes is helping train a new generation of researchers dedicated to climate action. She hopes to empower citizens and politicians alike to make informed choices to curb runaway climate change.
"In the end, it will be people on the ground, regular citizens, voting for climate-sincere governments, switching to electric vehicles and heat pumps, and perceiving this as a good thing," Rhodes says. "The transition will increase quality of life, create jobs and save the planet."
UVic is a catalyst driving change and meaningful impact on a global scale through strong partnerships at home and internationally. In our teaching, research and operations—and through our local, national and international partnerships—the University of Victoria proudly supports and works to advance the United Nation's Sustainable Development Goals (SDGs). UVic's commitment to climate, environmental change and sustainability measures up—we are second in the world among universities for climate action as ranked against the SDGs. Learn more about UVic's 2022 ranking by the Times Higher Education Impact Rankings. 
Photos
In this story
Keywords: People Place Planet, climate action, clean energy, climate, government, graduate research, interdisciplinary, sustainability, research, community international sustainability administrative, faculty & staff, SDGs, SDG13, climate action
People: Katya Rhodes, Aaron Hoyle