Forced out
- Richard Dal Monte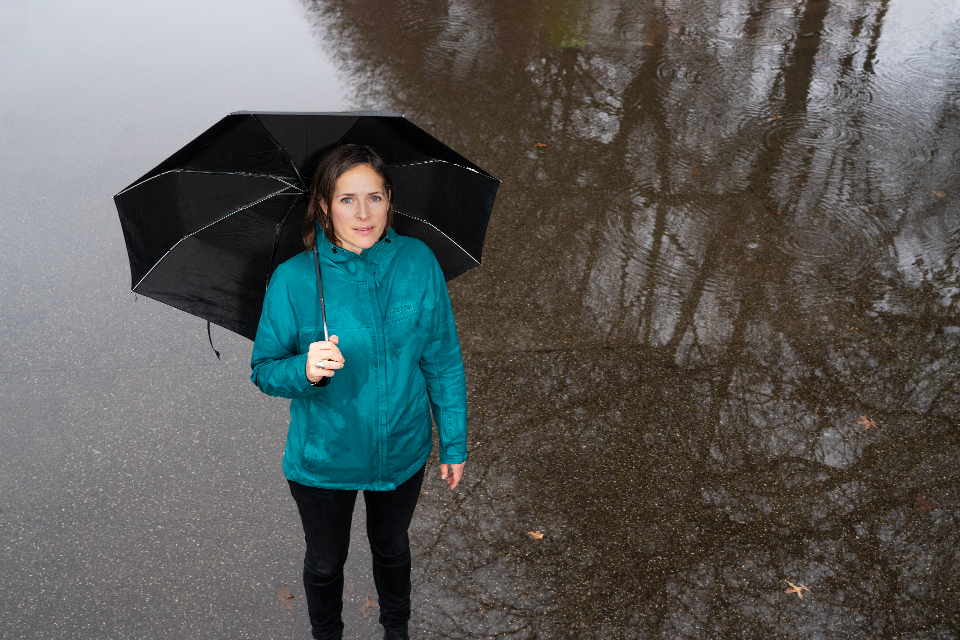 When Canadians think of people being forced out of their homes and communities due to climate change, it's likely they think of small island nations, drought-afflicted regions and historic flood zones, all far, far away. But such displacements are happening much closer to home.
In the last year alone, thousands of British Columbians have been evacuated from their communities due to wildfires and flooding, most recently in November, when a series of atmospheric rivers hit huge swaths of the province and raging floodwaters knocked out major roads, resulting in the tragic loss of lives.
"These extreme floods and wildfires will keep happening more frequently," says Nicole Bates-Eamer, a PhD candidate in UVic's Department of Political Science and lead author on a report for the Climate Displacement Planning Initiative (CDPI) in partnership with the university's Centre for Global Studies (CFGS) and Pacific Institute for Climate Solutions (PICS).
"Displacement is a function of the type of hazard, people's exposure to that hazard and people's ability to cope or to be resilient to that hazard," she explains, adding the hardest hit are often vulnerable populations.

- Nicole Bates-Eamer
For instance, the research project confirmed that Indigenous communities are disproportionately affected by disasters for a variety of reasons, including the remoteness of a community, isolation in fire-prone areas and lack of emergency services as well as the legacy of colonialism that affects trust and collaboration with government officials during emergency responses.
In addition to Indigenous communities, climate change disproportionately affects women, communities of colour, low-income families and those who already face economic and social challenges. Equity in adaptation planning means some communities and individuals require more services and more resources to achieve equal outcomes, and their needs must come first.
While the research focused on these subjects through a displacement lens, the organizations Bates-Eamer and other researchers spoke with—including all levels of government, community groups, Indigenous leaders and think tanks—kept talking about social issues.
"BC must make people more resilient in place, which means addressing poverty, marginalization, housing, job opportunities and issues of equity because it's often the same segments of the population that are impacted by these events," she says.
One possible solution is to identify and mitigate risks before disasters occur. This could include a "planned relocation," which would have people in areas commonly affected by floods and fires leaving their neighbourhoods or communities—a usually unattractive option given people's attachments to their homes. In a changing climate, the study states, people may need to adapt their ways of thinking to normalize the idea that mobility is a natural response.
And such adaptations are needed, Bates-Eamer says, noting, "The climate adaptation policy side is lagging way behind the mitigation side, so a lot of our efforts and a huge portion of the funding have focused on mitigation, which we definitely need.
We're more than 30 years late on mitigation; let's not be 30 years too late on adaptation. It needs to happen now, it needs to happen in Canada."
---
EdgeWise 
Climate Change Displacement – Mapping the BC Context, a partnership between CFGS and CDPI with funding from PICS, was conceived in the aftermath of BC's 2017 and 2018 wildfire seasons.
Bates-Eamer, who is completing her PhD on how the intersections of climate change and human mobility are framed in Canada and the implications of such framings for policy, worked on the project with George Benson, co-founder of CDPI, and Oliver Schmidtke, director at CFGS and a professor in political science and history at UVic.
The project aimed to understand the key issues and groups related to climate mobility in BC to engage governments, businesses, and community groups in the issue. The final report identified potential research questions to address knowledge gaps and priorities for action.
Additionally, the report notes: "Around the world, far more people are displaced every year by disasters and extreme weather than by conflict. Over the last decade, more than 200 million people have been displaced by such events. This includes thousands of Canadians; and in recent years, wildfires and floods displaced tens of thousands of British Columbians.
"The numbers of British Columbians who will be displaced in the future is impossible to know, but greater understanding of how climate change will impact specific communities is key to augmenting resiliency and adaptive capacities in those communities."
Photos
In this story
Keywords: climate, research, environment, sustainability, Pacific Institute for Climate Solutions, Centre for Global Studies
People: Nicole Bates-Eamer, Oliver Schmidtke
Publication: knowlEDGE