Masterminds lecture series returns to UVic for 2017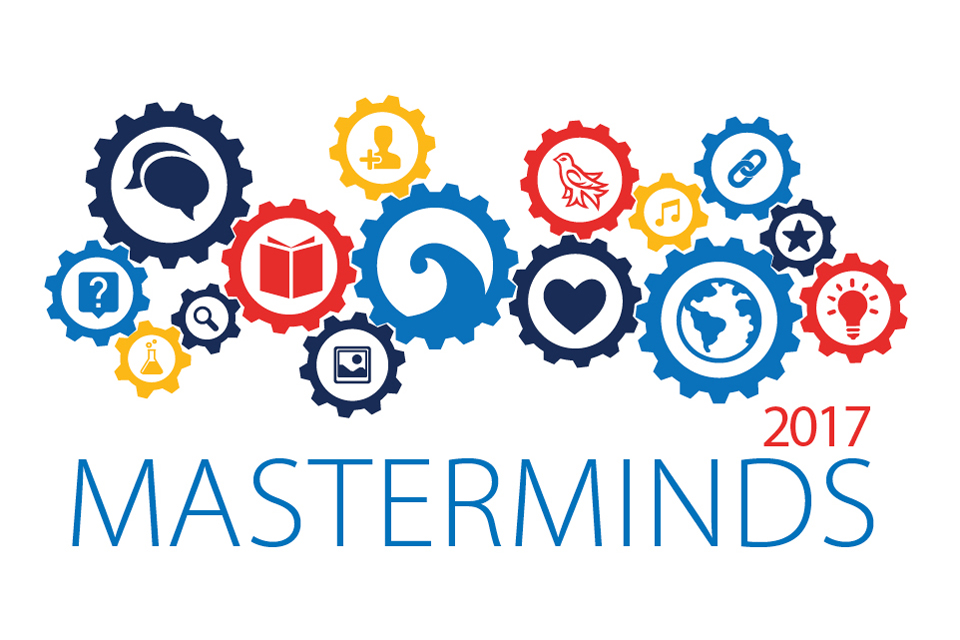 Each Wednesday evening in April, the
Masterminds
public lecture series features a fascinating and free talk on a wide range of subjects. Talks cover the mixed blessings of retirement, complexities of understanding and responding to human rights and harassment issues, how technology is used to monitor personal health, and the ways Shakespeare is being explored and shared in new digital forms. This year's presenters are Lynne Van Luven (Creative Writing), Barbara Whittington (Social Work), Terry Pearson (Biochemistry) and Michael Best (English).  
The UVic Retirees Association and the Institute on Aging and Lifelong Health sponsor the series, with support from the University of Victoria.
The first and last Masterminds lectures are held in Harry Hickman Lecture Theatre; the second and third are held in the David Lam Auditorium, MacLaurin Building.
Please register for the free lectures by contacting aging@uvic.ca or call 250-721-6369.
April 5—Mixed blessing: Life after retirement
By 2020, more Canadians than ever before will occupy the "senior citizen" category, and not all of them will enjoy being retired after 30, 40 or 50 years of work. Well, okay, golf maniacs will love it, but most will be looking for meaning in a variety of ways: new careers, volunteerism and travel.
Author and journalist
Lynne Van Luven
taught creative nonfiction courses at UVic for 17 years and is a self-described Type A workaholic. Van Luven reports honestly on the rewards and perils of this final stage of a life well lived.
April 12— Preventing harassment: Victim, bystander and activist
Whether in the RCMP, the Armed Forces, in churches, schools, sports teams, our streets, workplaces and in all our various communities, human rights abuses and harassment happen all around us. And sometimes these violations happen to us.
Grounded in her professional and personal experiences, professor emerita and former director of UVic's School of Social Work and UVic's Harassment and Human Rights office,
Barbara Whittington
discusses the complexities of defining, understanding and responding to human rights and harassment issues. Responses are many: from organizational policies and procedures through to community action and cultural shifts. As victims, the responses can be as damaging as the original human rights violation. As bystanders, we often look the other way, or we literally don't see what is happening. Whittington discusses how we can begin an informative, respectful learning exchange.
April 19—Your world in a drop of blood: Personal health monitoring
Each of us is an individual. In diagnostic medicine, individuality is currently underutilized—we are compared to the rest of the herd. New technology will reflect the individuality of people and the power of their differences. Personalized monitoring of molecules in the blood will allow improved wellness and clinical outcomes in acute and chronic diseases.
Biochemist and UVic professor emeritus
Terry Pearson
raises the microscopic to a human level as he explains how sophisticated instruments and systems have made it possible to accurately measure multiple "biomarker proteins" in single drops of blood. This process allows people to sample small amounts of blood at home, without the need for visits to a clinic, and to send the samples by mail to a central lab, enabling longitudinal monitoring of biomarkers that are indicators of fitness, infections, stress, cardiovascular health, gut health and cancer—truly a step towards personalized and patient-driven health management.
April 26—There's magic in the web of it: Putting Shakespeare online
Four hundred years after his death, Shakespeare's works are still widely read, performed and studied in theatres, classrooms and cinemas around the globe. Each generation keeps his plays alive, on page, on stage, and increasingly in new media.
The Internet Shakespeare Editions (ISE) is an open-access resource based at UVic. It gathers in one place the plays, a database of the plays in performance, and an extensive encyclopedia of Shakespeare's life and times.
Michael Best
, professor emeritus of English and founder of the ISE, will discuss how the ISE brings Shakespeare's works to a global audience and explores new ways of presenting them. He will also showcase his recent work on an updated edition of
King Lear
.
-- 30 --
Photos
Media contacts
Suzanne Ahearne (University Communications + Marketing) at 250-721-6139 or sahearne@uvic.ca
In this story
Keywords: Masterminds, Institute on Aging and Lifelong Health, community