Vikes alumnus gives 250K as a thank-you to men's basketball program
- Kelley O'Grady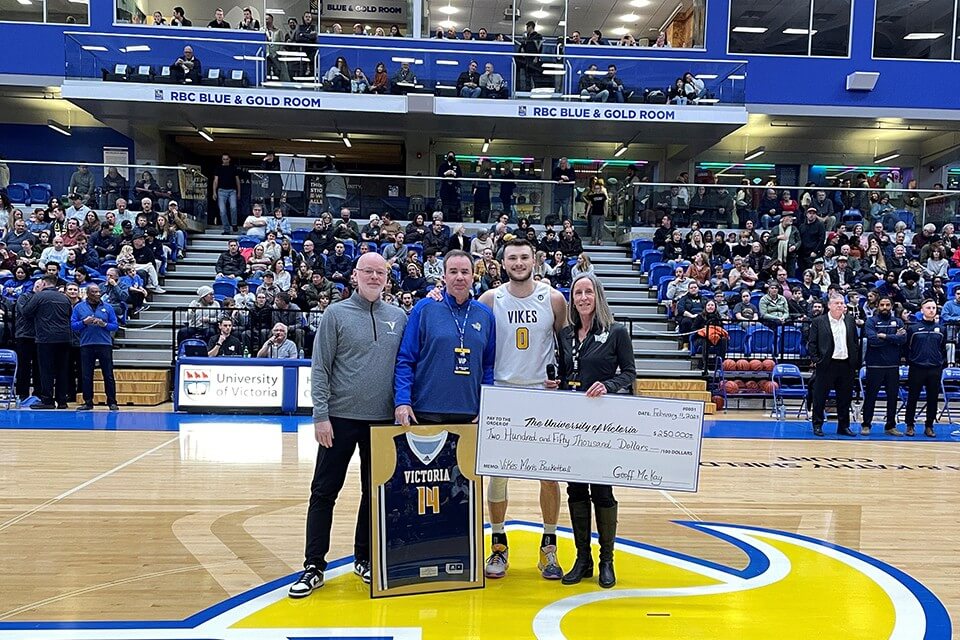 Geoff McKay, a champion of UVic men's basketball, makes largest single donation in program history
VICTORIA - The University of Victoria men's basketball team is feeling extra grateful heading into the post season thanks to the generosity of Vikes alumnus Geoff McKay, whose $250,000 gift, presented at the Feb. 11 men's basketball game, is the largest single donation in program history.
"We sincerely appreciate alumnus Geoff McKay for this tremendous contribution to the UVic men's basketball program," said Associate Vice President of Student Affairs, Jim Dunsdon. "This gift will help us set a new standard of excellence that builds on the Vikes long history of competition at the very highest levels of basketball in our country."
McKay, who played for the UVic men's basketball team from 1985-90, winning a national championship in his first season, says the donation is a thank you to the program and all it has done for him.
"The lessons I learned at UVic while playing for Ken Shields have helped enable me to be in a position to give back, and I'm exceptionally grateful for that. We learned about dedication, competing, working as a team and striving for the top.  This gift represents a small thank you for those lessons and hopefully helps the next generation of student-athletes reach their goals as well," said McKay.
After graduating from UVic with a BA in social sciences and a major in economics, McKay pursued an MBA from The Wharton School of the University of Pennsylvania. Parlaying his education into a remarkable career in investment banking and private equity, he's worked everywhere from London to Wallstreet— an industry that he says allows him to give back to his alma mater.
"We were always taught to give back. While I am fortunate to be able to contribute financially, many of my former teammates have taken the same lessons I learned and used them to give back in more meaningful ways, as teachers, coaches and community leaders," continued McKay.
An active member of the men's basketball alumni chapter and a career mentor for student-athletes, McKay is a proud supporter of the program and has been contributing to the annual Vikes Championship Breakfast for over a decade.
The one-time donation will be allocated for use over five years to support the team's vision of being consistent Canada West and U SPORTS contenders while making UVic a destination of choice for top men's basketball recruits. Twenty thousand dollars a year will go directly to the Vikes Championship Breakfast to support student-athlete scholarships, while the rest will be earmarked for costs associated with travel, equipment and more.
"Geoff's support means so much for the program and to me personally. There is so much we can do with this money, and given the economic climate right now, it means a lot," said Craig Beaucamp, men's basketball head coach.
"He's been really involved with the program lately, and he's a mentor to one of our athletes (Dom Oliveri). He wants to see these dollars used to enhance the student-athlete experience which meant so much to him and I want to make sure that we use it that way."
Photos
In this story
Keywords: administrative, alumni, athletics, arts, sports, donor, community
People: Geoff McKay, Craig Beaucamp, Jim Dunsdon