Change-up: The biking baker
- University of Victoria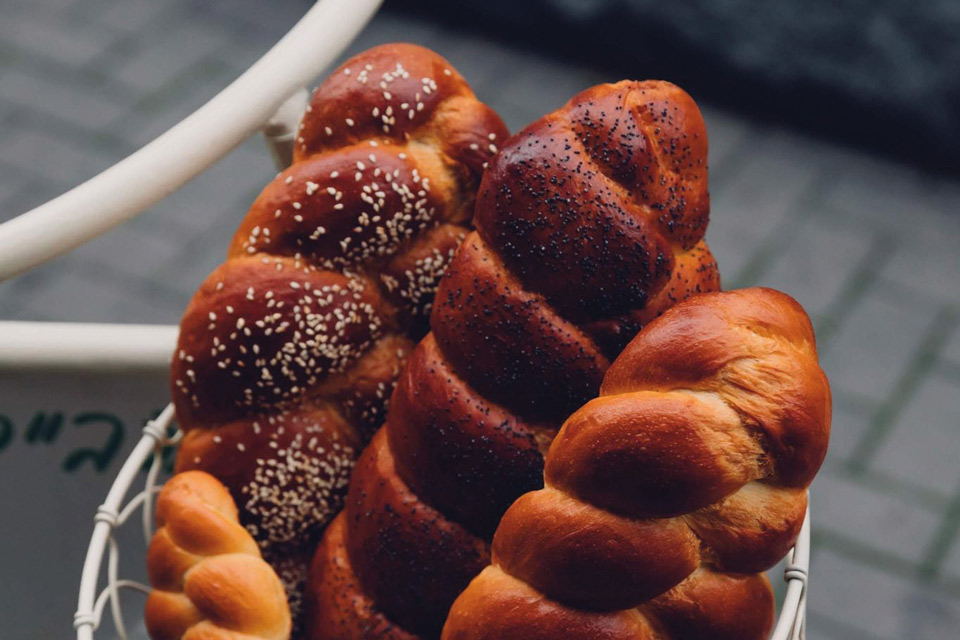 Theatre grad Markus Spodzieja went from the stage to starting a unique kosher bakery.
We profile UVic alumni who recently made a bold life change.
Name: Markus Spodzieja, owner/operator of The Bikery Baked Goods 
Age: Three decades' young (30).
Hometown: I like to say that I've been born and raised on the Island, but specifically: Tofino> Comox Valley > Campbell River > Victoria.
UVic degree and year: I graduated in 2015 with a BFA in Acting from the UVic Phoenix Theatre department. 
What I used to be: I've been, in order of appearance: warehouse picker, pirate, stagecraft carpenter, food runner, costume actor, bartender, bar manager, barista, prep cook and tech support customer service guru. After graduation I also worked a year with Working Class Theatre, but was finding that theatre wasn't as much my calling as it once was.
Then I had the idea to: In 2017, an article was shared with me regarding the City of Victoria's new pilot project: The Mobile Bike Vending Permit. The idea was to take a business and find a way to integrate it onto the back of a bicycle. My job at the time had been giving me some creative licence in the kitchen, and I had become really taken with the idea of pretzels. I successfully crowdfunded some capital, enough to purchase a bike, materials to build a cart attachment and supplies/ingredients.
How I did it: Through The Bikery's infancy, I worked two successive full-time cafe jobs that allowed me the use of their space in the mornings when their establishments were otherwise closed. I would bake off a few dozen pretzels, load up the bike and hit the streets. Using social media to tag photos and locations, I slowly built a following of tourists and regulars around the city. Eventually this turned into farmers' markets, office orders and door-to-door deliveries utilizing an online ordering system, until finally, in 2021, we were able to open the doors of our very own environmentally-focused kosher bakery space.
What I love about my new life: I love the regulars. The monthly, weekly and sometimes daily friendly faces that keep coming back because something as simple as a fresh bagel or pretzel is enough to make their day just a little bit brighter. I don't want to over embellish too much—the hours are long and the multitasking exhausting. But being able to stand back and watch a fully stocked storefront of baked goods—the result of a full morning's work—gradually disappear before your eyes is extremely rewarding.
What I miss about my old life: I miss evening activities. Going out to theatre, enjoying the night life of Victoria, or digging into a good board game with friends. Starting work at the stroke of midnight is a quieter life for sure.
One lesson learned: Pace yourself. The beginning of a new endeavour is exciting and can quickly become all-consuming. The biggest lesson learned is how to transition your headspace and responsibilities in a healthy way to accommodate the brand-new life you're about to undertake. You can't run a marathon without warming up first.
One person who helped me: Narrowing this down isn't fair to my family, who instilled in me the work ethic I have today; the countless local business owners who have helped guide me through the trials of early entrepreneurship; my business partner, Kimanda, without whom our business in its present kosher form would not exist, and my wife, Rina, who has been my rock and guiding light through thick and thin.
One trade secret: A cup of flour is 150g, a cup of sugar is 200g and an egg is 50g. Never underestimate the power of simple mind-math calculations.
You can find me: The Bikery can be found in the Victoria Public Market at 1701 Douglas St., facing the far side of the building. We offer no cost, emissions-free delivery on orders over $10 when placed online at thebikery.ca. Look for our pretzel bike hitting the streets again this summer! 
Photos
In this story
Keywords: alumni, entrepreneurship, theatre
People: Markus Spodzieja
Publication: The Torch