UVic leads national project to tackle water and sanitation crisis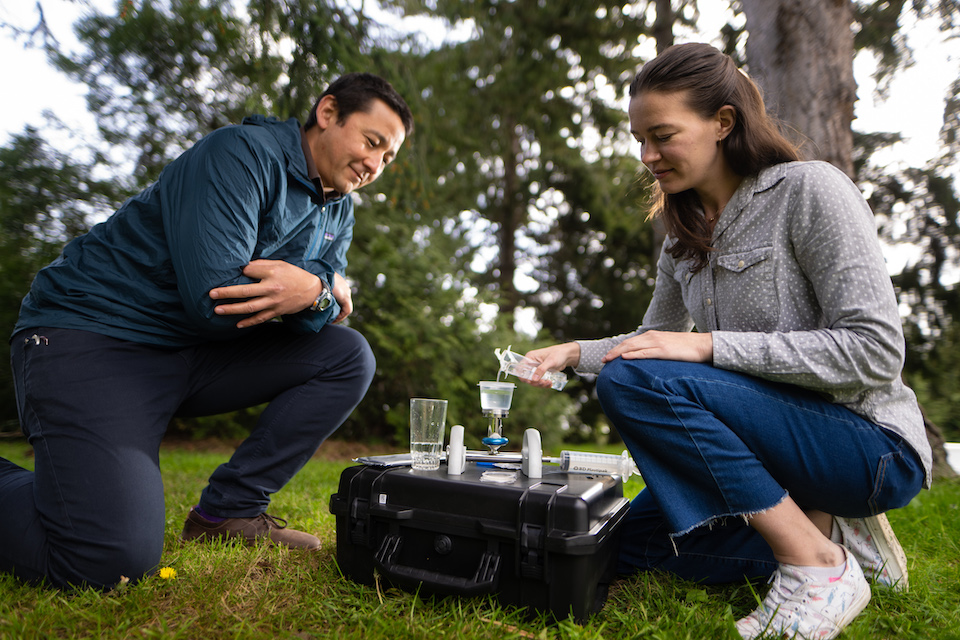 If problems around water quality and wastewater in remote and poorly served communities are to be solved, they'll need funding, local involvement and technical know-how.
Caetano Dorea, a University of Victoria professor in civil engineering at UVic, is leading a team that has been awarded a $1.65-million Natural Sciences and Engineering Research Council of Canada grant to train emerging engineers to work on water and sanitation projects in low-resource contexts in Canada and abroad.
The project brings together researchers and students from eight Canadian universities—UVic, University of British Columbia, Simon Fraser University, Western University, University of Guelph, University of Toronto, Carleton University and Laval University, where he previously taught—and gives those students broader exposure to different education and institutions, as well as hands-on experiences.
"The goal is to produce engineers with practical experience who can work with communities and implementing agencies to find solutions to their water and wastewater problems," says Dorea, who leads the Public Health and Environmental Engineering Lab, Canada's first research group dedicated to water, sanitation and hygiene (WASH). Another aim is to promote research that's needed to develop sustainable water and sanitation services to improve the lives of the most marginalized members of the global community.
The project reflects UVic's commitment to ensuring availability and sustainable management of water and sanitation for all, as articulated in the United Nations Sustainable Development Goals.
Issues with safe drinking water and safe disposal of wastewater are not unique to low- and middle-income countries, he says, noting that he and his colleagues use the term "low-resource context" because "inequities are independent of the income level of a country." In Canada, for instance, there are rural and Indigenous communities that have lived under boil-water advisories for more than two decades and some six million people face water and wastewater management challenges.
"They need to achieve the same water quality standards as everyone else," Dorea says, "and yet, they have fewer resources and lower capacity." He expects the project will continue the same type of collaborative research he has done in the past, in which communities have ranged from Nunavik in northern Quebec to communities in Malawi, a country in southeast Africa.
Such communities often have a water source that's contaminated, meaning their water needs to be treated before it's consumed, he explains. In these situations, the solution can often involve providing systems to do treatment at the point of use. However, such technology, which is designed in well-controlled lab conditions, doesn't always work as planned in the real world.
The NSERC CREATE grant will help universities train engineering students to collaborate with local authorities, implementing agencies and NGOs working with low-resource communities and the communities themselves to find "fit-for-purpose" solutions. Many communities already know what the solutions are but need help refining them.
Such immersive experiences are key to the educational benefit students will receive.
"During this training experience, what we want to do is to make sure the students have the right heads, hands and hearts," he says. "Behind these solutions, there are humans. You think in a different way when you have an understanding of the inequities you're addressing."
The program, which involves approximately 40 grad students, is funded for six years. Dorea hopes it will jumpstart WASH as a more widely studied academic discipline in Canada and a critical mass of water- and sanitation-related disciplines and expertise.
Read the Government of Canada news announcement.
-- 30 --
Photos
Media contacts
Caetano Dorea (Engineering) at 1-418-928-6688 or caetanodorea@uvic.ca
Anne Tolson (Faculty of Engineering and Computer Science Communications) at 250-812-6309 or engrcomm@uvic.ca
(University Communications + Marketing) at 250-721-7636 or uvicnews@uvic.ca
In this story
Keywords: health, interdisciplinary, partnerships, research, technology, water, Faculty of Engineering, Indigenous, international, sustainability, student life (students)
People: Caetano Dorea