Shoot, Score, Dazzle!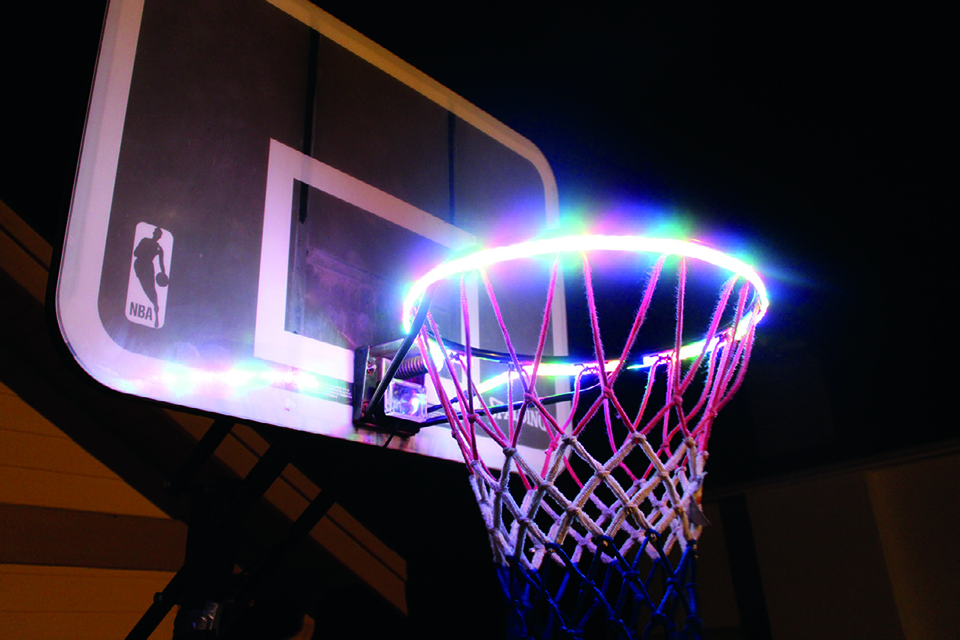 Picture it
Two kids are passing a basketball in the driveway. One of them dribbles up to the net and then shoots—with a satisfying swish, the ball is through—and the hoop lights up with a flash that throws a rainbow of pulsing lights over the celebratory high fiving below.
This scene is brought to you by Hoop­LightTM, created by founder Joseph Erlic (BCom '18) and his brothers Martin, a 2015 Economics graduate, and Jure. The brothers pooled their business skills to nurture the product, which launched in July 2018.
An idea in class
The HoopLight story began in Joseph's entrepreneurship class. "One thing that was really emphasized during the entre­preneurship section of my degree was, 'Whatever you do with your career, make sure it's something you're passionate about,'" says Joseph. "And a lot of what's happened with HoopLight has come out of that."
When Joseph and his fellow entrepreneurship students at UVic's Peter B. Gustavson School of Business were tasked with creating a product pitch, he thought of his passion for sports. Joseph has spent some of his best hours on the soccer field, rugby pitch and basketball court.
When I got the pitch assignment, I asked my uncle—who has created quite a few products for PCs—how he comes up with his ideas. He told me he takes one of his hobbies and finds a way to improve it. I asked myself what my hobbies were, and that was easy. All it took was looking out the window and seeing my younger cousins trying to play basketball in the dark, and the idea was there.
—HoopLight founder and UVic grad Joseph Erlic (BCom '18)
At first, he focused on a basketball-specific light that would improve his cousins' experience: an LED light that wrapped around the rim of the hoop so players could see what they were aiming at after dark. He made his 60-second pitch in class, got graded on his project, and continued with his courses.
Challenges present opportunity
But it wasn't game over yet. Joseph was a scholarship-win­ning Vikes rugby player, with international tournament experi­ence and a short stint with a semi-pro team. He had always thought that rugby would be his first career. "I had always relied on the fact that I would try for the national rugby team, try to pick up a contract to play. And then out of the blue, two major injuries in my final year of Vikes rugby shifted the whole picture. Suddenly, I had no idea what I was going to do with my life."
What he did was spend his final year as a student developing HoopLight from his original product pitch into the eye-popping light party that the Erlic brothers took to market last July. From a simple LED light strip on a hoop, it evolved into a weather-resis­tant, multi-coloured panel that lights up with over one hundred different patterns when a player scores. But they're not stopping there. They've also added a constant light, as well as the colour­ful flashing when a player scores.
Encouraging younger players to stay engaged with physical activity and sports is no small part of HoopLight's value. Indeed, the brothers are already finding ways to up their game. Martin is working on an app that plays sounds when the hoop lights up. Their vision is to integrate the digital component even further.
"Eventually, we'd like to add scoring to the app," says Joseph. "So every time you make a basket, you add points to your hoop score. The higher your hoop score gets, the more colours and patterns and sounds you unlock. So it's an incentive to get kids to play more. Plus, it would mean you can compete against players using the app anywhere in the world."
Visit hoop-light.com for more information.
Photos
In this story