New library podcast creates space for Indigenous perspectives on truth
- Lisa Abram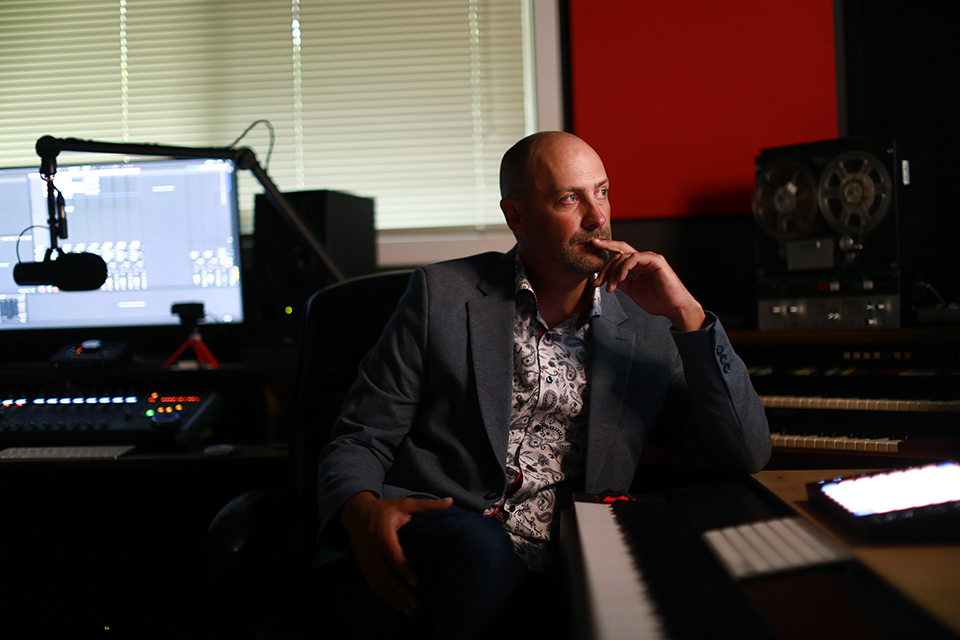 Exploring the power of truth-telling in advancing human rights
Content warning: this story includes multiple mentions of the residential school system.  A national Residential Schools crisis line for Survivors and their families is available 24/7.  If you are in need of support, please call 1-866-925-4419. Services and resources are also listed on UVic's Orange Shirt Day webpage. 
Canada's genocide is getting harder to deny.  So too is the growing recognition that human rights and the perspectives of Indigenous Peoples offer solutions to ending the endemic violence in Canada.  From the Truth and Reconciliation Commission (TRC), to the National Inquiry into Missing and Murdered Indigenous Women and Girls and the introduction of the Declaration on the Rights of Indigenous Peoples Act in BC, human-rights-based solutions are starting to take greater shape in society. 
There remains a long road ahead, and truth-telling efforts remain essential.  Yet, if truth must come before reconciliation, why are Indigenous truths so often suppressed?
Talking about what we know and what we believe
A new podcast series—Taapwaywin: Talking about what we know and what we believe—from the University of Victoria Libraries aims to give voice to Indigenous perspectives on this question, harnessing the power of podcasting as an important and vital way of sharing knowledge beyond the classroom, or the campus.  
Read the UVic announcement (Sept. 27)
Hosted by Associate University Librarian – Reconciliation Ry Moran, Taapwaywin features conversations with Elders, Knowledge Keepers, Survivors, academics, artists, activists and community leaders about the role truth-telling can play in societal healing.
This podcast explores how power, memory, human rights and truth-telling intersect.

—Ry Moran, podcast host, a member of the Red River Métis and the inaugural associate university librarian – reconciliation on UVic Libraries' senior management team on the UVic campus, which stands on the traditional territories of the lək̓ʷəŋən peoples and of the Songhees, Esquimalt and W̱SÁNEĆ peoples
"The podcast is in many ways a deeper response to the questions I've been asked regarding our collective responsibilities towards truth and reconciliation and acknowledgement of processes of violent colonization," Moran adds.
Truth before reconciliation
Moran's path to produce this podcast builds on decades of work. From his recent role as the founding director of the National Centre for Truth and Reconciliation prior to his arrival at UVic, to statement-gathering work with the TRC, and the important efforts to honour and remember the children who never returned from the residential schools, Moran has listened to thousands of hours of residential school Survivor statements. These hard and often devastating truths—and the teachings contained within the work of the TRC—have shaped Moran's perspectives on what Canada is, and the change that's necessary. 
After completing the interviews for the first season of the podcast, Moran approached Michif Elder Norman Fleury for an appropriate name for the project podcast. After discussing the concept and content, Fleury felt that Taapwaywin ("truth" in Michif) best described the essence of the conversations that await listeners.
Learning through case studies
In one episode, Moran examines the relationship that museums have to truth—and how they obscure the facts.
We have to commit to finding ways to live together. And there's going to be ups and downs in that. But that word to me, is a contract: coexistence.

—Jisgang Nika Collison, podcast contributor
"You can't have coexistence without reparation," explains Jisgang Nika Collison, who is also the executive director and curator of Haida Gwaii Museum, in an episode of the podcast. "And you can't have reparation without acceptance. You can't have acceptance without truth-telling. And you can't have truth-telling until you have a forum where people are willing to hear the truth. And you can't have a forum where people are willing to hear the truth until that truth is mainstreamed."  
One of the stories told is about brothers, carvers and artists Jaalen and Gwaai Edenshaw who travelled in 2015 from Haida Gwaii to the Pitt Rivers Museum in England to understand the story behind a magnificent Haida bentwood box that was taken from their community in 1884.
Knowing that the Great Box will not be returned from the museum to where they live in Haida Gwaii, the brothers spent 30 days recreating its intricate details. Moran observes that even though museums are colonial institutions, they can be spaces for healing and learning—where difficult truths are confronted about their collections—and for the creation and maintenance of healthy and supportive relationships.
Gwaai explains that now they are getting closer to realizing their collective dream of having ceremonial objects return to be part of their everyday lives.
The intersection of libraries and Indigenous knowledge
Deep listening is what Moran and Karina Greenwood, Taapwaywin's producer and writer, hope people do when they tune in to the series. "As a settler nation, we have the responsibility to listen to Indigenous Peoples," says Greenwood. "Elders, Knowledge Keepers and Survivors are giving us a gift in sharing their stories—it is a privilege to listen to them."
Since Moran's arrival at UVic Libraries, his work has been to recognize that Indigenous knowledge comes from many sources. Some is written down, but much of it can only be accessed through relationship, dialogue and listening.
The learning ahead
As creator, host and composer, Moran's goal for this multi-year series is for the podcast to meaningfully contribute to the dialogue underway on some of the complex topics enmeshed within the work of truth and reconciliation.  By amplifying the voices, ideas and efforts of leading thinkers and Knowledge Keepers on these topics, the podcast aims to help bring important perspectives to listeners across the world.
For years, every time I walked through the front doors of the Truth and Reconciliation Commission's offices, I was visually reminded of the words, 'the truth of our common experiences will help set our spirits free and pave the way for reconciliation.'

—Moran   
Moran hopes this podcast will meaningfully contribute to the important work of helping Canadians better understand both the lived experiences and solutions being put forward by Indigenous Peoples. While the topics covered in the podcasts deal with difficult material, the importance of truth takes centre stage in this podcast.
"Truth-telling—and especially the truths of Indigenous Peoples—no matter how difficult, is a necessary precursor to reconciliation," Moran adds.
The series is available on major podcast platforms and on the website Taapwaywin.ca, and was made possible by UVic's Strategic Framework Impact Fund, with support from CFUV.
Find out more
Photos
In this story
Keywords: community, Indigenous, administrative, faculty and staff, reconciliation, truth, decolonization, history
People: Ry Moran, Karina Greenwood
Publication: The Ring