Anthropologist builds Indigenous–municipal connections
- Anne MacLaurin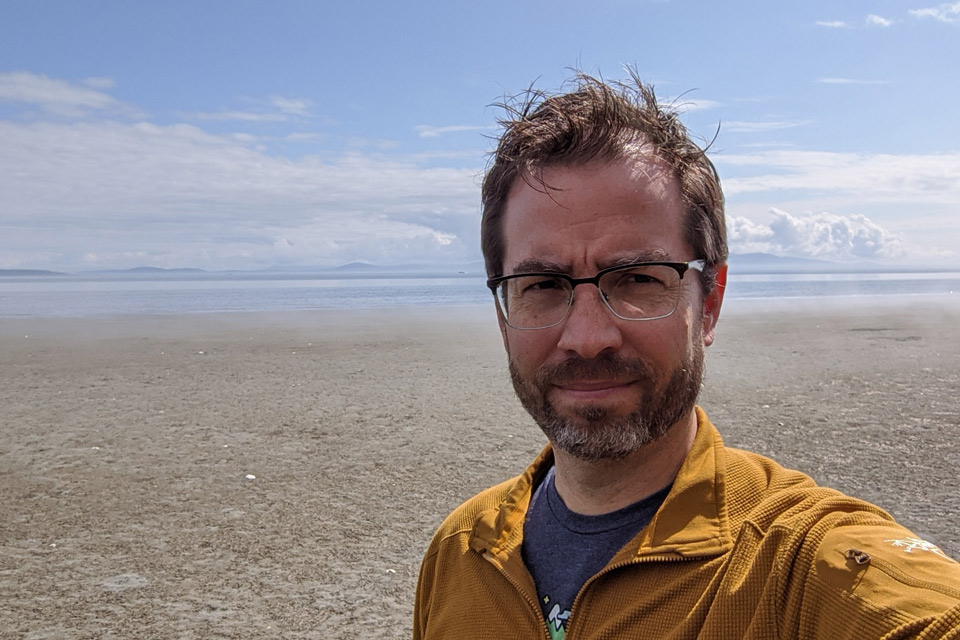 A local anthropologist who has dedicated much of his career to supporting Indigenous Peoples' land rights is the latest recipient of the Leadership Victoria Award for Extending Reconciliation.
UVic anthropologist Brian Thom is a leading expert in the interplay between Indigenous cultural connections to place, and the legal and political consequences of colonial discourses in Canada and internationally. The extending reconciliation award acknowledges his latest work with W̱SÁNEĆ Leadership Council and the District of Saanich to Indigenize municipal land use planning in the Cordova Bay area.
"Arriving in my new community of Cordova Bay five years ago, I realized I knew next to nothing about the particular Indigenous histories of this place, so I spent some sabbatical time reviewing ethnographic and archival records, connecting with members in the W̱SÁNEĆ community and becoming more informed," says Thom.
After attending a public meeting about the proposed Cordova Bay Local Area Plan, Thom offered his expertise to the District of Saanich and the local land use planners, who had little information about Indigenous histories and values related to Cordova Bay.
"I showed my preliminary findings to senior planning staff and walked them through a Google Earth map I had compiled with records from the UVic Library, Archives and the Royal BC Museum," says Thom.
"In my archival research, I also found numerous archaeological and burial sites that had been reported from 1946-1984, but never incorporated into the province's archaeological database," says Thom.
Thom worked with BC Archaeology Branch staff to get the information into BC's records system, which in turn triggered new consultations with W̱SÁNEĆ First Nations and a last-minute archaeological investigation before a major new development in Cordova Bay got underway.
Recognizing the opportunity the proposed Local Area Plan gave to move the municipality's relationship with First Nations to a proactive stance, Thom facilitated the very first joint meeting of the leadership of the District of Saanich and W̱SÁNEĆ Leadership Council in May 2019. The event, funded in part from a grant from the Faculty of Social Sciences, followed Coast Salish protocols, with a Speaker and Witnesses, and became a platform to bring out Indigenous oral histories and teachings related to Cordova Bay. For elected officials and senior staff, hearing the histories and priorities of W̱SÁNEĆ peoples was an inflection point, igniting new commitments to incorporate these values into land use planning and build relationships for other municipal processes.
Together with Elder Eric Pelkey and staff from W̱SÁNEĆ Leadership Council, Thom developed a detailed report for how the District of Saanich might incorporate a more fully realized vision of Indigenous land values into their Local Area Plan, land use bylaws, official community plan, and suggestions for future research. They also worked  together to educate and inform the public about the histories of the ancient village of ȾEL¸IȽĆE in Cordova Bay.
The new Cordova Bay Local Area Plan was unanimously approved at a public hearing this March. To implement this vision, WLC and Saanich entered into the ÁTOL,NEUEL ("Respecting One Another") Memorandum of Understanding. The work charts out a vision for recognizing and respecting Indigenous values and priories in the community for the next 20-30 years
"I hope the process of incorporating Indigenous priorities into land use planning can be an inspiration for other municipalities to go beyond the territorial acknowledgment to recognizing and respecting First Nation's territories and ancestral places," adds Thom.
Photos
In this story
Keywords: community, award, Indigenous, administrative, anthropology
People: Brian Thom
Publication: The Ring