Drug checking as community building, service and research
Science, Human and Social Development
- Amanda Farrell-Low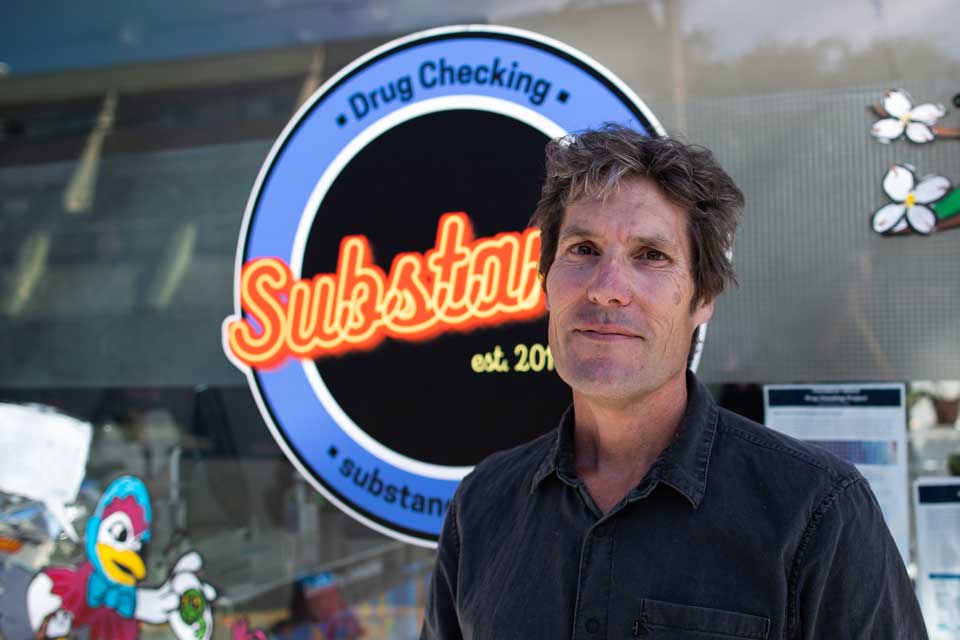 The Vancouver Island Drug Checking Project is about much more than testing drugs. 
Of course, drug checking is its core service. Their storefront, Substance, tests samples at the corner of Cook and North Park in Victoria, and demand for their services has never been higher, with the backdrop of the dual public-health emergencies of COVID-19 and drug-overdose deaths. But the project, led by UVic social work professor Bruce Wallace and chemistry professor Dennis Hore, is also a blend of research, service and partnerships including several UVic faculties, people who use drugs, students, government agencies, community groups and more.
Wallace, a 2022 recipient of a President's Chair—the highest academic honour UVic can award a faculty member—says community engagement and partnerships are an integral part of the work of the drug checking project and his research program in general.
Often, community-engaged research looks at how we can get communities more engaged in our research in respectful ways. I think it's more about how we can get the university and the researchers more engaged in community."

—UVic social work professor Bruce Wallace
Wallace, who is also a scientist with UVic's Canadian Institute for Substance Use Research (CISUR), continues: "That's where service-as-research really has a unique role. We're not going out and trying to study a problem. We are trying to generate evidence by addressing the problem."
Mark Willson, director of programs for SOLID, the drug user organization which shares its building with Substance, agrees. "Too often, researchers come into our community, do a survey, and we don't hear much from them again," says Willson.  "Substance is here providing a much-needed service and giving back to the community instead of just researching us."
Researching overdose response
Since BC declared a public-health emergency related to overdose deaths in 2016, Wallace's research has focused on overdose response, including the made-in-BC model of overdose prevention sites. His work has since shifted to drug checking, which uses a combination of technologies, like spectrometers and testing strips, to determine the type and concentrations of substances found in samples of drugs.
Initially, Wallace says the Vancouver Island Drug Checking Project's primary aim was to detect fentanyl in the illicit drug supply to help people avoid it. But a lot has changed since the project began in 2018. Heroin has been almost entirely replaced by varying concentrations of fentanyl, and now benzodiazepines—central nervous system depressants that do not respond to naloxone—are showing up in about half of all expected-opioid samples they test. Overdose deaths, already at unprecedented highs, have doubled in BC since the COVID-19 pandemic began.
"As everybody's lives were disrupted, that was also disrupting the lives of people who use drugs and those illicit markets," says Wallace. "Drug checking had a unique role in trying to provide as much up-to-date information to both service providers and people who are involved in that market to be able to know what was happening."
That meant staying operational throughout the pandemic was of the utmost importance. Wallace says they worked with the UVic and Island Health ethics boards to get approval to continue to offer drug checking as safely as possible, and set up at overdose prevention sites in encampments and hotels, following the need for their services. 
The project was then approached by SOLID to move into a storefront in their building on Cook Street. Substance's bright, colourful windows and welcoming atmosphere are essential: Wallace says the space itself is an exercise in combatting stigma.
"When people think of stigma campaigns, they think of bus shelter ads and radio spots. The way our storefront is a visible place for people who are engaged in the illicit drug market and seeking as much knowledge as they can, to have that within our communities and be really open about it, that enacts anti-stigma," he says. "We don't feel the need to be hiding services for people who use drugs in the back of social services."
Expanding and evolving
The project continues to evolve. They release weekly and monthly reports on what they are finding in the local drug supply, have partnered with community organizations up and down the Island to offer on-site drug checking pop-ups in their communities, and launched a Vancouver-Island-wide service where people can mail in their samples and check their results online. 
"One of the limits of the drug checking project is you have to be able to walk into that storefront to access the benefits of the service and the research," says Wallace. "We've always had a health-equity objective to make sure that drug checking is going to be effective by operating at a scale that's reflective of the issue."
The Vancouver Island Drug Checking Project also offers many hands-on learning opportunities for students from a wide range of disciplines and experience levels, from grad students doing PhD research to undergrads in a co-op placement.
"Students are able to work on some of the much longer-term objectives of their academic programs and also have a service shift in the community," says Wallace. "They see the challenges that we're trying to work with within the systems of criminalization and stigmatization and how to actually engage in those systems, not just critique them."
While Wallace is grateful for the President's Chair recognition, he says there is still much work to be done.
"I'm really humbled to receive this award. My research goals align with what UVic has outlined in their strategic plan, which is to be able to engage both locally and globally, to have a role in community as the university, and provide engaged learning and scholarship," says Wallace. "I look forward to when the work many of us are working towards in the Faculty of Human and Social Development, CISUR and other places at the university is less novel and is really part of the university's assumed role in peoples' lives and in our communities."
Photos
In this story
Keywords: addiction, drugs, research, community, health
People: Bruce Wallace, Dennis Hore
Publication: The Ring