New look for UVic diplomas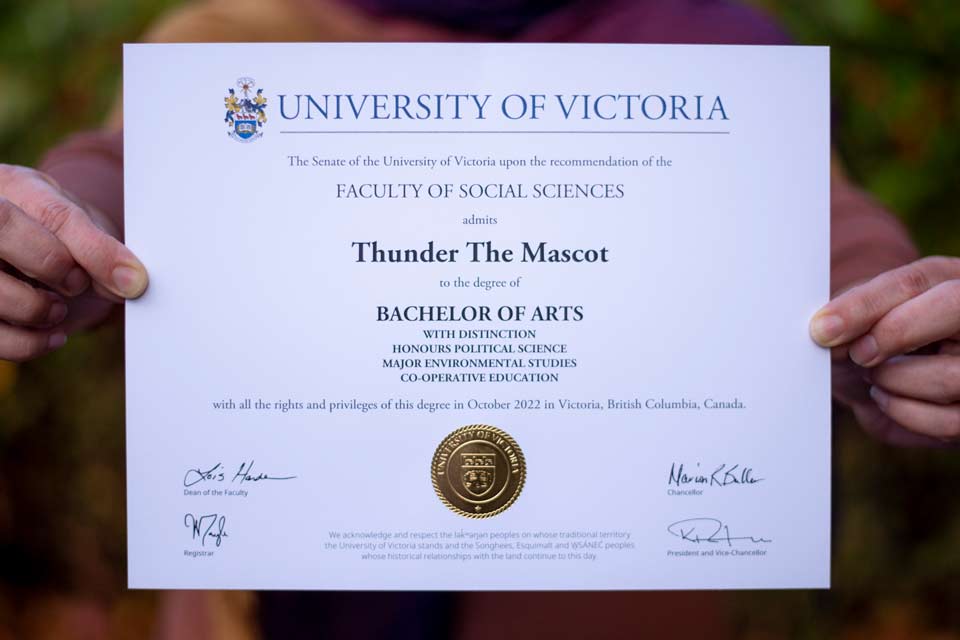 For the first time in 27 years, University of Victoria parchments—or the diplomas issued to its graduates—will have a new look. Students graduating this fall will be the first class to receive the new design.
The parchment renewal project was spurred by feedback from graduating students during the COVID-19 pandemic. According to project lead Kellee Strom, "When in-person convocation ceremonies were called off due to the COVID-19 pandemic, the arrival of the parchment in the mail took on greater significance for many graduating students. We heard from many of them that the design of our diplomas did not meet their expectations for an official university parchment."
What followed was more than five months of Canada-wide surveys, consultation and best practices review. Fueled by this data, the team designed a significantly enhanced university parchment.
Features of the new design
Territory acknowledgment is a foundational element in the new design

Enhanced security features make it difficult to fake or copy

Graduand's primary area of study provides a more detailed description of the degree earned

Heavier paper and an embossed gold seal
Moving forward, all new and replacement parchments will be in the new design.
"Thank you to all of the students, staff, faculty, and community members that helped us modernize the parchments," says Strom. "We're absolutely thrilled to be launching the new designs and we can't wait to help students celebrate this November."
Photos
In this story